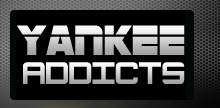 October 19, 2011 · Pete Schauer · Jump to comments
Article Source: Bleacher Report - New York Yankees
Being such a monumental franchise, due in large part to winning 27 World Series titles, the New York Yankees have seen many different managers come and go throughout the years.
32 managers to be exact, none finer than the five on this list. Combined, these five incredible managers have led the Yankees to 23 World Series titles and 33 pennants.
Here are the five greatest managers in the history of the New York Yankees:
(**Note: Managers were largely assessed on their number of World Series titles and win percentage.)