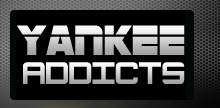 February 24, 2010 · nyyankeefan forever · Jump to comments
Article Source: Bleacher Report - New York Yankees
"28 in 2010" is the newfound battle cry of the resurgent Yankee dynasty.
However, "27 since 2007" might be a more meaningful one this week.
Just 28 months ago, on a Wednesday evening at the team's Legends Field training complex in Tampa, George Steinbrenner gathered his two sons, team president Randy Levine, Brian Cashman, and several others around him for a salary discussion requested by a leading member of the Yankee team that had won 10 AL East titles and four World Series in 12 years.
Coming off a $19.2 million, three-year contract which had paid him more than double what anybody else in his position had ever earned, Joe Torre sat down and asked Steinbrenner to reconsider his offer of a $5 million base salary with up to $3 million in postseason incentives to return for another year, with a vested option for a second year.
In essence, a $2.5 million base salary cut with the option to make it all back and more if the team made it to the Series.
Guarantee all the money or guarantee the second year, Torre demanded.
Hal Steinbrenner replied for his father: the final offer was on the table. Torre stood up, said goodbye and walked out. He flew back home to the New York suburbs, went to bed and held a press conference the following day.
Standing before the national media, he announced he'd quit because he considered any contract offer that included a pay cut or incentives "an insult," and that a one-year offer was tantamount to a vote of no confidence in his abilities.
Asked how he could be insulted by any offer that would continue to pay him the highest salary of any manager in baseball history, Torre replied:
"Yes it was a very generous offer, but it wasn't the type of commitment that 'we're trying to do something together,' as opposed to 'let me see what you can do for me.'"
Asked if he thought incentives were unfair after failing to win a World Series in seven years with baseball's highest payroll, after being eliminated in the first round of post-season play for the third season in a row, after insisting the team sign multiple key players to long-term contracts whose declining skills were evident, he replied:
"I've been there 12 years and I didn't think motivation was needed."
Wrong answer.
In one of his final acts as controlling owner of the Yankees, George Steinbrenner—who had fast-tracked a sagging franchise back into a dynasty with his wallet and then watched in frustration as its latest skipper inexorably steered it back into the gridlock of mediocrity—gifted his sons and all who loved his team the promise of a new beginning.
The biggest spender of all had finally showed he knew where to cut the budget where it needed it most.
Just 28 months ago.
It was an ironic end to a seven-year era marked by frustration, pain and dismay for owner, team and fans alike. And if you think seven years is too short to be defined as an era, then you've never rooted for a team that won four rings in five years and had come to average a Series win every four years throughout its existence.
Once a bold, cucumber-cool manager who had found early success by harnessing and steadying the boundless energy, hustle, and extraordinary talents of a corps group of young home-grown pinstripers he had inherited, Torre degenerated into a genial old manager who played it safe.
He mistrusted younger players, leveraging his early success and clout with George into contract payola for favored older players he would gravitate toward in the dugout, at practice and in his office—his "chemistry" guys, he sometimes called them
In the first half of his dozen Yankee years, Torre had proved he could capably manage a group of fiery, cocksure young guns burning to prove themselves, who stormed the diamond on game days like a Panzer column and won like few teams had before.
But in his second half, after years of vacuuming the farm system of prospects in deals for all his free agent band-aid brigadiers, he had proved with equal, horrible resolve that rewarding past performance and likability was only good enough to get swept from the playoffs early and often. And that was good enough for him.
In the end, the chemistry guy who had personally profited more than any other manager in history from an owner's willingness to put his money where it mattered most couldn't understand why he couldn't make any more with his strategy.
Offered the chance to remain at the top of the managerial financial food chain and prove he still had the stuff to win a ring, he opted instead to act insulted and walk away, leaving behind some bad contracts and an owner who had long ago determined that rings are the only chemical that matters.
After all, some of the greatest Yankee teams in history despised one another. But then nobody knew that better than the Yankees' biggest fan of all. Right, George?
Vilified when they spend money and crucified in effigy when they don't, the family Steinbrenner has ignored all the hubris, stuck to their guns and resurrected the greatest sports franchise in history once again.
Now fully in the capable hands of George's sons, and ably assisted by Brian Cashman and a younger Joe in the skipper's seat, the Yankees are a juggernaut with a shiny new ring and a team built for speed, power and distance; a worthy successor to a century of great teams and a tradition of winning unmatched anywhere else in sport.
To the rest of the world, they are today, as they have always been, truly America's Team.
And all because George Steinbrenner sat down one Wednesday evening in Tampa and told Joe Torre pretty good wasn't good enough anymore.
Just 28 months ago.
Read more New York Yankees news on BleacherReport.com