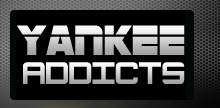 April 22, 2009 · D Wizzle · Jump to comments
Article Source: Bleacher Report - New York Yankees
Here is a list of the top ten most disappointing players so far in the majors.
1. CC Sabathia, Yankees Pitcher
Sabathia has been less than impressive so far with the Yankees. He has had control problems and has walked 14 batters in four starts. His ERA is currently 4.81.
2. Matt Holliday, A's OF
Holliday was supposed to help the A's generate more homers this season, but he has zero homers so far, and only nine RBIs.
3. Jimmy Rollins, Phillies SS
Rollins is batting .179 with one homer and four RBIs.
4. Cole Hamels, Phillies Pitcher
Hamels has been injured, but his ERA after two starts is 11.17. He gave up three homers in his last start against the Padres.
5. Josh Hamilton, Rangers OF
Hamilton is struggling with only one homer and nine RBIs. His average is also only at.226.
6. Derrek Lee, Cubs 1B
Lee is only batting .222 with one homer and nine RBIs.
7. Justin Verlander, Tigers Pitcher
Verlander was supposed to rebound from a terrible 2008 season, but his ERA after tonight is 9.00, after giving up seven runs to the Angels this evening.
8. Ken Griffey Jr., Mariners OF
Your third place hitter should not be batting under .200 with only two RBIs for the season.
9. Prince Fielder, Brewers 1B
Fielder is batting .170 with just one home run and seven RBIs.

10. Jake Peavy, Padres Pitcher
Peavy is 2-2 but has a 5.13 ERA. He has given up a homer in three of his four starts.