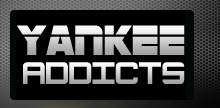 March 31, 2010 · Nathaniel Ballance · Jump to comments
Article Source: Bleacher Report - New York Yankees
When Pat Venditte came on to pitch for the Yankees against the Braves a few days ago, I was excited. As a fan with an interest in the Yankees farm system, I enjoy spring training because it gives me a chance to see some of the young guys that otherwise I wouldn't.
Venditte is not a flashy name, nor will you find him high up on any of the top prospect lists. Rather, his intrigue lies in the astounding fact that he is of the rarest baseball commodities—a switch pitcher.
Gifted with ambidextrous ability beyond that of most normal men, Venditte uses a specially made six-finger glove to allow himself to pitch with either hand, depending on the handedness of the batter he's facing.
Bronx Baseball Daily rounded up some photos of Venditte's outing against Atlanta, and as a resident of Georgia, I was able to catch his performance on the local CSS channel.
Venditte came on in relief of CC Sabathia with two outs in the fifth inning and calmly retired Yunel Escobar on a groundball.
In the sixth, he was able to utilize both his left and right arm as he faced three right-handed batter, two left-handed and a switch hitter, who batted left-handed.
Matt Diaz dropped a single into center and Nate McLouth sacrificed to Venditte. He walked catcher Clint Sammons on a full count and ex-Yankee Eric Hinske blooped a single to right that loaded the bases.
The next batter skied a fly ball to left-field that scored Diaz's pinch-runner and then Brooks Conrad grounded out sharply to end the inning.
In terms of mechanics, he throws harder from the right side with an over-the-top delivery. He uses a fastball and a twelve-to-six curveball (Matt Diaz's single came off a curveball that hung a little too much). From the left side, he uses a lower arm angle and relies more on his off-speed pitches, mainly a swooping slider.
His control seemed a bit off, although his strikeout to walk ratio is over six to one since being drafted, so it could be chalked up to facing better quality hitters and making his first "Major League" appearance, albeit in a spring training game.
Venditte has dominated the low minors since being drafter, posting a 1.53 ERA and a sub-one WHIP. He has been several years older than the league average wherever he's pitched for the Yankees, so whether or not he's a legitimate Major League prospect has yet to be determined.
Regardless of the level he ends up reaching, Pat Venditte is going to be regarded as a sideshow phenomenon. The question is going to be whether or not his act is capable of consistently retiring major league hitters. It'll be several years before we find out, but he's off to an impressive start.
Read more New York Yankees news on BleacherReport.com