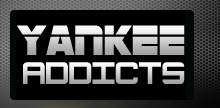 May 17, 2009 · Mets Police · Jump to comments
Article Source: Bleacher Report - New York Yankees
Now that you've read the headline, don't jump on me as a Yankee hater yet. I enjoy them. There are six games a year (and one World Series every 50) where I hope they lose. Other than that I wish them well. I buy tickets to their games, have written about Why I Don't Hate Them and I used to really enjoy Sterling and Kay because they would weave a sports talk show around the pitches. However….
I gotta tell you they are becoming really annoying to listen to. Suzyn Waldman complains every night about how long the game is and seems annoyed to even be there. I loved her work on WFAN, but she's just wrong for this role. I've yet to meet a Yankees fan who enjoys her in the booth.
Then there is John Sterling. I won't break any ground here, but you all know the issues. Corny forced home run calls (a fun game on the Internet is "make up John Sterling calls for the Mets") and rose colored glasses. This afternoon I learned about winning runs on first – why not say the winning run is on deck, or in the hole – and how the Twins were "lucky" on plays.
Good play by play announcers (like Howie Rose) lead you with their voice, so you have a sense of the play without seeing it. Sterling will get you all pumped up for what seems to be the most incredible play in the history of baseball before he chooses to mention that the right fielder is under Teixeira's ball. Awful.
I guess I can't be surprised with all the other terrible decisions that the Yankees have made that they choose to have this man as the "voice" of the Yankees. The radio booth is just another example of something the Mets do better, and why this will become Mets town for good.
www.metspolice.com
@metspolice