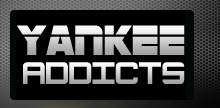 May 19, 2009 · A.J. Martelli · Jump to comments
Article Source: Bleacher Report - New York Yankees
Winning their last six games, the New York Yankees crushed the Baltimore Orioles by a score of 9-1 on Tuesday night, rolling their winning streak over to seven games.
Down 1-0 in the bottom of the first, Alex Rodriguez delivered a 439 foot, two-run homer over the Orioles' bullpen in left field, giving the Yanks a 2-1 edge. For Rodriguez, it was his fourth home run in as many games.
Rodriguez now has 558 career home runs and sits five big flies behind Reggie Jackson for 11th place on the all-time home runs list.
In the seventh inning the Bronx Bombers exploded for seven runs, padding their one run lead.
Francisco Cervelli started the Yanks off reaching on an error by O's shortstop Robert Andino. Derek Jeter later cleared the bases with a double, giving the Yanks a 6-1 edge.
Johnny Damon knocked in Jeter with an RBI single, and Mark Teixeira slammed his 11th home run of the year, a two-run blast into the second deck in right field, propelling the Yanks to a 9-1 lead.
"I just got a fastball over the plate and I got it," Teixeira said after the game. "I'm seeing the ball better, and I'm seeing a few more pitches to hit. Right now we're having a lot of fun."
With the homer in the seventh, Teixeira now leads the Yankee team in home runs as he passed Damon's mark of 10.
CC Sabathia took the ball for the Yanks and turned in another great performance. He lasted seven innings, and gave up one earned run on only three hits. Sabathia walked one and fanned seven.
"He was going to go back out for the eighth," said Yankee skipper Joe Girardi.
"But when we scored more runs we didn't feel the need to send him out."
Sabathia's only blemish on the night was surrendering an RBI ground out to first base in the top of the first inning to Aubrey Huff allowing Brian Roberts to score from third.
Capturing his first victory in the new ballpark in the Bronx, Sabathia improves his season record to 4-3.
Orioles' starter Brad Bergesen takes the loss and falls to 1-2.
Tomorrow night at 7:05 p.m. the Yankees and Orioles will play game two of their three game set.
The Yankees will send Phil Hughes (1-2, 7.56 ERA) to the mound to face Orioles ace Jeremy Guthrie (3-3, 5.21 ERA).
Media Credit: MY9, Yankees.com