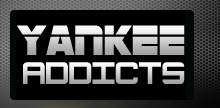 April 21, 2009 · Rob Abruzzese · Jump to comments
Article Source: Bleacher Report - New York Yankees
Over the past couple of years we have grown accustomed to seeing a packed house in Yankee Stadium, but this season has been a different story.
Thanks to extremely high priced tickets we have seen a drop in attendance in the seats located directly behind home plate.
I think quite a few fans saw this one coming. I mean, even in a great economy who is going to shell out $2,600 for one ticket to a cold game in April?
I would like to meet these people. I'm just curious to see who has that kind of disposable income.
Also, I'm not sure what the Yankees can do to fix this problem. They seem stuck with it. If they discount the tickets now the 15 or so fans that did spend good money on the seats will rightly be lining up for a refund.
It's not just limited to the uber-expensive $2,600 seats. Check these out:
This is an entire section of seats left unfilled down the third base line. Pathetic. It would be one thing if the rest of the stadium weren't packed. What a shame.