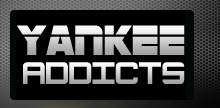 May 13, 2013 · Kenny DeJohn · Jump to comments
Article Source: Bleacher Report - New York Yankees
The New York Yankees have 10 regulars currently rehabbing various injuries on the disabled list—Francisco Cervelli, Joba Chamberlain, Curtis Granderson, Derek Jeter, Ivan Nova, Eduardo Nunez, Michael Pineda, Alex Rodriguez, Mark Teixeira and Kevin Youkilis—but they're all scheduled to be returning at different points within the next few months.
Granderson, Jeter, Rodriguez and Teixeira have the potential to turn the first-place Yankees into an even more talented club. The Yankees have gotten the job done thus far with names like Vernon Wells, Jayson Nix, Chris Nelson and Lyle Overbay filling in for the respective superstars. As a first-place team, it's safe to say that the Yankees are more than pleased with the play of these fill-ins.
Granderson and Teixeira are scheduled to be back with the club in the near future (though Granderson should be back first), while Rodriguez and Jeter are on track to be ready sometime after the All-Star break.
In shortened seasons, what should we expect from some of the Yankees' biggest stars?