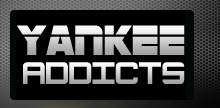 September 22, 2016 · Scott Polacek · Jump to comments
Article Source: Bleacher Report - New York Yankees
New York Yankees second baseman Starlin Castro has not appeared in a game since Sept. 17 because of a hamstring injury, and it's unclear when he will return to the field.
Continue for updates.
---
Friday, Sept. 23
The Yankees announced Castro was not in the starting lineup against Toronto on Friday.
---
Latest on Castro's Timeline for Return
Thursday, Sept. 22
Manager Joe Girardi said he could take the field again this season, per Bryan Hoch of MLB.com.
---
Castro Playing Major Part in Yankees' Offensive Surge
This is Castro's first season with the Yankees after playing his initial six years at the MLB level with the Chicago Cubs. He is slashing .273/.304/.439 with 21 home runs and 69 RBI in 146 games and has provided a power surge for the Bronx Bombers considering his career-high home run total entering the 2016 campaign was 14 (2012 and 2014).
The Yankees will likely turn toward Ronald Torreyes until Castro is ready to return. Torreyes has appeared in 63 games this year and is slashing .271/.322/.391 with one homer. The Yankees also have Donovan Solano, who is in his first year with Yankees after four seasons with the Miami Marlins. However, he has only appeared in three games in 2016 and is there more for depth purposes.
The Yankees can at least take solace knowing they have replacements available, but neither of them provide the presence in the order that Castro does on a daily basis.
Read more New York Yankees news on BleacherReport.com