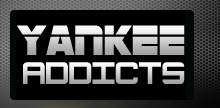 May 9, 2013 · Benjamin Klein · Jump to comments
Article Source: Bleacher Report - New York Yankees
New York Yankees' outfielder Vernon Wells did something Wednesday night that he'd never done throughout his 15-year career: He played the infield.
When manager Joe Girardi decided to pinch-hit Travis Hafner for third baseman Chris Nelson in the ninth inning against the Colorado Rockies, Wells made the move to the hot corner for the bottom half of the inning.
"As soon as I saw Travis coming up, I knew I was going to end up playing third," Wells told Mark Feinsand of the New York Daily News. "The panic set in immediately."
Despite it being the first time Wells ever played in the infield, he wasn't an issue defensively—cleanly fielding one grounder that retired Rockies' outfielder Carlos Gonzalez.
Feinsand writes that Wells "takes grounders at third base once or twice a week to keep his hands in shape" and "had been warned by Girardi earlier in the day to be ready in case such an occasion presented itself."
So even though Wells is basically foreign to the infield, the question arises as to whether the Yankees would consider playing him at third base a little more often in the near future.
Why, you might ask? Well, because the Yankees will soon have four outfielders worthy of starting and only three available spots in the lineup.
Wells, along with Ichiro Suzuki and Brett Gardner, have been the primary outfielders the entire year. But Curtis Granderson, who broke his forearm in spring training, is making his way back, according to Andrew Marchand of ESPN New York.
Once Granderson returns, who plays and who sits?
One could make the argument that Wells or Granderson could take turns as New York's designated hitter, but Hafner has played great thus far. Through 28 games, the left-handed slugger is hitting .284/.408/.568 with six home runs and 18 RBI. Having him on the bench wouldn't give the Yankees the best chance at winning.
In essence, someone is going to be the odd man out. But Wells, Suzuki and Gardner have all played relatively well this season and are among New York's top offensive weapons.
| Player | G | AVG | OBP | SLG | HR | RBI | SB | WAR |
| --- | --- | --- | --- | --- | --- | --- | --- | --- |
| Wells | 32 | .287 | .341 | .504 | 7 | 15 | 4 | 1.0 |
| Gardner | 32 | .270 | .343 | .402 | 3 | 13 | 5 | 1.0 |
| Suzuki | 29 | .269 | .319 | .346 | 1 | 6 | 4 | 0.2 |
The best way for all three current outfielders, Granderson and Hafner to be in the regular lineup would be to have Wells at third base from time to time—something like two or three games per week, potentially, if he doesn't make a fool of himself.
"When you're asked to do something and it's going to help this team in any way, there's not a man in here that will say no," Wells told Feinsand, which makes it seem that he'd be up to the challenge.
Kevin Youkilis is currently on the 15-day disabled list, but could return within the next week or so, reports Marchand. Although he was signed over the offseason to be the third baseman while Alex Rodriguez is sidelined, he's more than qualified to play first base regularly.
That could mean Youkilis at first, Wells at third, Gardner in left, Granderson in center, Suzuki in right and Hafner as the designated hitter. Offensively, it's as good as the Yankees could plan it. Defensively, though, could be an entirely different story.
There are two recent examples that I could think of where a team played a non-third baseman at third base: Albert Pujols and Miguel Cabrera.
Pujols played third base in 96 games between 2001 and 2002 for the St. Louis Cardinals. He played seven games at the hot corner in 2011 and three games there last season with the Los Angeles Angels. He hasn't been a big liability defensively, but he does have 19 errors on his resume during his time there.
Cabrera had been a third baseman earlier in his career with the Florida Marlins, but he moved to first base when he went to the Detroit Tigers. When Detroit signed Prince Fielder, Cabrera moved back to third. In around 1,500 innings the past year and a month, he has committed 14 errors—which isn't bad at all.
The problem with these comparisons is that both Pujols and Cabrera had prior experience at third base before playing there a bit (Pujols) and now primarily (Cabrera). It's up for debate as to how Wells would handle a part-time role at the hot corner.
But the goal for the Yankees is to create the optimal lineup once Granderson and Youkilis return, which means giving the Bronx Bombers the best opportunity to score and win.
So if I'm Girardi, I continue to have Wells take grounders at third base and see how comfortable—or uncomfortable—he is there. If he's uncomfortable, then there's no way to increase his role there. If he is, though, there's no hurt in giving him more time.
What's the worst that could happen? Oh yeah, Eduardo Nunez comparisons could arise.
Read more New York Yankees news on BleacherReport.com