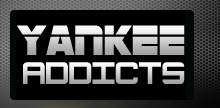 February 21, 2013 · Stephen Skinner · Jump to comments
Article Source: Bleacher Report - New York Yankees
News broke Wednesday that New York Yankees pitcher Phil Hughes has been diagnosed with a bulging disc in his upper back and will be sidelined for two weeks. Should this be a source of concern for the Yankees given that the right-handed pitcher is slated to be the team's fourth starter?
According to the Spine Centers of America, most disc bulges affect the lower back and "more rarely, in the upper back or your thoracic spine."
To better understand the type of issue that Hughes is having with his back and how long this could affect him, I referenced PhysioAdvisor.com. In the site I found that the type of condition the Yankees hurler is suffering from can be caused by "…trivial movement involving bending forward such as picking up a small object…"
According to Adam Berry of the Bombers Blog, Hughes said he "felt something grab" while covering first base in a defensive drill that he has done numerous times.
More interesting is what the prognosis is for someone afflicted with a bulging disc in the upper back. PhysioAdvisor reveals:
In patients with the perfect balance of activities, the thoracic disc may be pushed into position in as little as three days. Typically, however, patients take approximately 2 to 3 weeks to push their disc back 'in'. Once the disc is 'in', the patient should be pain free and have full movement.
That explains the Yankees putting Hughes on ice for a couple of weeks.
What about long term? Is their 26-year-old starter going to have to deal with this for a significant amount of time even though he'll be back on the mound in two weeks?
PhysioAdvisor indicates that Hughes will need to proceed with caution well beyond the two week recovery period.
However, the torn connective tissue at the back of the disc only begins to heal from this point. It takes approximately six weeks of consistently keeping the disc 'in' to allow the torn tissue to heal to approximately 80% of its original strength.
Does that mean the Yankees pitcher will need to rein in his normal routine for at least six weeks?
Dr. Michael Perry of the Laser Spine Institute writes:
The prognosis for a patient suffering from a thoracic disc protrusion is fortunately quite good. Typically, disc protrusion treatment involves a conservative course of action including physical therapy, heat or ice packs, pain medication or injections, and more. However, a small percentage of the population continues to suffer with disc protrusion symptoms for months or years. These patients are left to consider spine surgery as the last option.
GM Brian Cashman has appropriately taken a conservative approach in discussing Hughes. The pitcher, on the other hand, felt that he was ahead of schedule because of his offseason work and isn't too worried about having a quick recovery.
In 2012 Hughes was 16-13 with a 4.19 ERA. Through the months of June and July, and during a time when the team lost both CC Sabathia and Andy Pettitte to injury, the young starter was 6-3 with a 2.88 ERA. His performance at that crucial time in the season cemented him in the rotation.
Last season was a nice bounce back from a horrendous 2011 when he inexplicably lost velocity on his fastball and had a career-high 5.79 ERA.
Will this latest setback for Hughes mean another "down" season in his roller-coaster career?
No one needs to have a successful campaign more than the hurler as he is a free agent in 2014. A good season could mean a significant increase in salary (he currently has a one-year, $7.15 million contract) for Hughes.
Uncertainty already surrounds the Yankees starting rotation. CC Sabathia is returning from elbow surgery, Hiroki Kuroda and Andy Pettitte are in the twilight of their careers, and the fifth spot is up for grabs in a competition between Ivan Nova and David Phelps.
The last thing the team needs is a lingering issue with their fourth starter.
Chances are that given his age and the access to facilities and resources "commoners" like you and I would never be able to utilize, Hughes will make a full recovery and put the aggravation behind him before the start of the season.
How much this bulging disc will affect his schedule in getting ready for his first regular season start remains to be seen.
Both the Yankees and their fans hope the pitcher's optimism is warranted.
Read more New York Yankees news on BleacherReport.com