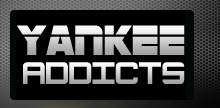 April 27, 2010 · Doug Rush · Jump to comments
Article Source: Bleacher Report - New York Yankees
In the beginning of the 2010 season, a lot of things have gone right for the Yankees.
Curtis Granderson is fitting well into the center field spot, as is Brett Gardner in the left field spot.
Phil Hughes is doing a tremendous job as the fifth starter while for the most part, Joba Chamberlain has done a good job as the setup man.
However, there has been one glitch so far in the 2010 season: Javier Vazquez.
Originally, the Vazquez for Melky Cabrera deal looked like a bona fide steal in the winter considering how well Vazquez pitched in 2009 with the Braves.
So far, the Yankees and the fans are still wondering when the 2009 Vazquez is going to show up because the 2010 Vazquez stinks.
Right now, Vazquez is 1-3 with a 9.00 ERA in his first four starts. All three of Vazquez's losses weren't games where it was 2-1 and he just lost to a better pitcher. No, Vazuqez has gotten his rear-end kicked twice by the Angels and once by the Rays.
The only win he has was against the Oakland A's, and that wasn't even the best performance we've seen out of Javy.
I know it's April and the Yankees have won the first five out of their six series, so there is no need to panic.
But if Vazquez continues to struggle badly and lose these kind of games, the Yankees can't keep him in the rotation to get beaten down like this.
So here's a thought; with Vazquez struggling, should Sergio Mitre get a shot to start for the Yankees?
Mitre has basically been a ghost on the Yankees bench in 2010, mostly because the other four starters in CC Sabathia, A.J. Burnett, Andy Pettitte and Hughes have all pitched so well that a long reliever hasn't been needed, except for Vazquez's.
In 2009, Mitre was awful for the Yankees when he started. Maybe it was from the long layoff Mitre had from surgeries, but he was not anywhere near good in 2009.
In the 2010 Spring Training, Mitre looked 10 times better than in 2009 and in his brief 3.1 innings pitched, Mitre has a 2.79 ERA with one run given up, which is better than his 2009 ERA of 6.79.
Now, I am not saying that Vazquez should be completely taken out of the rotation. That wouldn't be fair to him unless you have an established starter ready to take his place, which the Yankees don't, especially since they traded Chad Gaudin to Oakland before the season started.
But if Vazquez continues to lose and lose badly, Joe Girardi can't just keep throwing him up there every five starts.
Not only will it destroy Vazquez's confidence, it basically puts the Yankees in a major hole every game when he pitches unless the offense guarantees to score every day.
I, like a lot of Yankee fans, am just hoping that this is a terrible April, kind of like what Mark Teixeira is going through, and May will be a better month. This is what you hope for out of Vazquez.
But if he continues the skid and goes to a 1-5, 1-6 or 1-7 start with the ERA still around the 8.00-9.00 area, Girardi might want to sit Vazquez down for a game or two, give him a breather and give Mitre a couple of starts.
Some of you might be against the idea considering how Mitre wasn't that great in 2010, but with Vazquez's struggles, Mitre can't pitch any worse. At least I think he can't.
Heck, if you even go into my article archive from 2009 on here, I was the most vocal and outspoken on how much I disliked Mitre on the Yankees and couldn't wait to replace him.
Now, here I am, one season later, with the idea of putting in Mitre over someone else, especially Vazquez. Yep, I am as shocked as anyone that I'm writing this.
Hopefully, the Vazquez issue goes away and he can get on track with the rest of the rotation. Otherwise, Vazquez could soon be finding himself with two options.
One, watching the games from the bullpen as someone else takes his spot or two, finding himself in another uniform because the Yankees had no other choice but to move him.
Time will only tell with this Javier Vazquez issue. Stay tuned to see what happens.
Read more New York Yankees news on BleacherReport.com