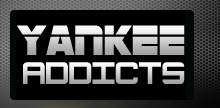 December 28, 2009 · Doug Rush · Jump to comments
Article Source: Bleacher Report - New York Yankees
Hope everyone has a great Christmas and a wonderful holiday weekend. But now, it's time to get back to the baseball hot stove of the winter.
We all know the Yankees are searching for a left fielder for 2010.
We also know the Yankees are almost at their budget number for payroll, which is somewhere around $200 million, so they aren't looking to spend a lot.
Right now, Jason Bay, Matt Holliday, and Johnny Damon are all considered too expensive, unless they drop their demands or the Yankees add to the budget.
Mark DeRosa's name has been thrown around, too, but according to sources, he may accept the San Francisco Giants offer very soon.
It looks like Brian Cashman isn't going to spend a lot on a left fielder, so if he's looking for a bargain, he could find one from his own bin.
Xavier Nady could end up being that bargain that the Yankees are looking for to play left field.
The last time Yankee fans saw Nady was early in 2009 when he suffered a season-ending injury to his elbow, requiring Tommy John surgery in July.
Nady was a very important player in the outfield for the Yankees in the second half of the 2008 season, finishing with 25 home runs and 97 RBI while batting .305 with the Yankees and Pirates.
Nady was going to be the original every-day right fielder in 2009, but because of the injury, the job became Nick Swisher's, and the rest is history. Meanwhile, Nady became an after-thought in most minds.
Nady never really got the chance to show the kind of potential he could bring to the lineup for the Yankees with the injury, so they only got a half of a season out of him. But in 2008, because Bobby Abreu was still the right fielder and a shoulder injury forced Damon to the disabled list, the Yankees made a trade with the Pirates to get Nady, along with Damaso Marte.
Many people felt the trade was a waste until the World Series this past fall where Marte dominated the Phillies top bats. But what if the trade didn't have to be a waste?
If Nady is healthy and ready to go in 2010, Cashman could make Nady a decent offer with an incentive-laden contract due to the elbow injury of last season.
The other cheap options for the Yankees on the market aren't exactly the most attractive ones—like Jonny Gomes and Reed Johnson—neither of which are better than Nady.
There is also Jermaine Dye and Marlon Byrd, but the Yankees haven't been linked as to definitely being interested in them just yet. Plus, nobody knows what either player are asking for in a contract.
Some might feel Nady is a major risk, and he would be. If his elbow is injured again, the Yankees are out of a starting outfielder and, more than likely, will be forced to put Brett Gardner in the lineup, rather than keep him as the fourth outfielder on the bench.
But when healthy, like in 2007 and 2008, Nady can hit anywhere from 20-25 home runs and drive in 70-100 RBI—something the Yankees could use in their lineup after losing Hideki Matsui and potentially losing Damon.
Cashman still has a lot of examining to do for the 2010 lineup and we all know he is going to try to bring in the best player for the right price.
If Nady is healthy, and if Cashman looks hard enough, then this could end up being a bargain. I doubt Nady is going to command big money on this market, especially after the injury and surgery.
The Yankees' lineup is still a good one, so if the Yankees take a risk and bring Nady back, it can only make it a better one.
We know when healthy, Nady can put up solid numbers with the Yankees. And he's not a negative influence in the locker room or asking for a ton of money. At this point, Nady is just looking for a chance to play again.
Maybe the Yankees can end up being the team that gives Nady that chance to play one more time.
Read more New York Yankees news on BleacherReport.com