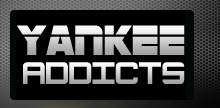 June 13, 2009 · Josh McMullen · Jump to comments
Article Source: Bleacher Report - New York Yankees
In every sport, there's at least one team that seems to "stack the deck," meaning that they rack up all the talent so that no one else can have any, and said team wins championship after championship.
Sometimes, the team has so much talent, that great players languish on the bench when they could be starring someplace else. When I say "broken up," I mean that the teams should get rid of some of their talent so other teams have a chance at having a good team.
McMullen's Musings takes a look at teams that should do just that.
New England Patriots- The Patriots proved last year that they are stacked in most positions when injuries forced Bill Belichick to look toward his bench. Not only that, they always seem to trade up to get just the player they need to make them look even more stacked. Meanwhile, when other teams lose their good players to injury, they cannot find decent players to replace them. If the NFL does not want another 0-16 team, maybe the Patriots should share the wealth.
Manchester United- The Red Devils are so stacked, they are usually ten points clear of anyone else by mid-season. They could easily have enough top players to fill a second team and win the Premier League with them. Everybody likes a winner, but they also like competition. With Manchester United so stuffed with talent, I don't foresee that happening any time soon.
Boston Celtics- The Celtics showed during this year's playoffs that they don't need a Big Three to get things done in the Eastern Conference. Kevin Garnett had to sit out with a knee injury, and the Celtics still held their own with some very stiff competition. They have enough good players sitting on the bench to do very well without any of them. We may see this in a couple years, however, as some of the Celtics are getting old, including all of the aforementioned Big Three.
Los Angeles Lakers- The Lakers have Kobe Bryant, Derek Fisher, and Pau Gasol, who might have blossomed just as well with the Grizzlies if he had stayed there. Not only that, they lured Lamar Odom from across the road and got some rising stars in Trevor Ariza and Andrew Bynum. Certainly, trading a couple of these players would not hurt their chances of winning more championships.
USC (College Football)- I know we can't do anything about this, but because the Trojans have an immense amount of coverage (because they somehow seem to get in a major bowl every year, even with two or three losses, it seems), they are able to recruit more blue-chip athletes, and that just makes the Pac-10 even more lopsided. If we break USC up and spread the wealth amongst all of the Pac-10 teams, it might bring about the parity that the NCAA is so proud of.
New York Yankees- This is the team that everybody thinks should be broken up, and rightfully so: they are probably stacked three-deep on their depth chart with pure talent, while teams like the Blue Jays have one aging star who is probably on their last legs. Because they are in a convenient market, they are able to jack up the price for free agents, and that drives everyone else away. Unfortunately, all the Yankees get for hoarding all that talent is a little lighter in the wallet by way of the MLB's luxury tax. If there is anyone that should be broken up, it is definitely the Yankees.