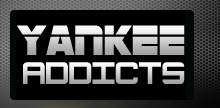 June 15, 2009 · Scott McGrath · Jump to comments
Article Source: Bleacher Report - New York Yankees
In what many thought would be just another day of work for him, the New York Mets' pitcher Johan Santana had the worst start in his career.
It started as a normal outing for Santana, giving up a hit to Derek Jeter before retiring three straight in the Yankees' lineup. But things only got worse from there.
After giving up a lead-off double to Robinson Cano and walking Hideki Matsui, Santana looked a little off. Three straight singles later, and the Bronx Bombers were quickly up by four.
Four runs seems like that would be pretty bad for Santana, and he seemed unnerved after going three up, three down in his next inning.
Mets fans and the baseball world then witnessed Santana's worst start in his extremely successful career. Santana was shellacked for another five earned runs in only the fourth inning, to give him nine for the day, the most of his career. Luis Castillo must be looking pretty good right now.
To make matters worse, Brian Stokes would come in only to give up another four runs, and Jon Switzer gave up another two (the Switzer-Swisher at-bat made for some interesting announcing during the game).
The Mets seem frustrated the entire game, especially because they were shutout by A.J. Burnett who looked great on the mound.
However, the umpires weren't helping their cause by calling a very loose strike zone. So loose that it spurred an argument from David Wright after he was struck out looking and an ejection for Jerry Manuel when he proceeded with the argument.
However, the Yankees need to be given some credit, too. Scoring 15 runs, and most not off home runs (always a surprise when playing at the new Yankee Stadium), their offense really clicked today when it needed to.
A.J. Burnett, who had been struggling, received his third win in five games, and really seems to be turning it around. Against the Mets, he pitched seven scoreless innings, only giving up four hits, and earning eight strikeouts.
It was an impressive performance from the Yankees, but a beyond scary one for any Mets' fan. The Yankees just have to hope this isn't just another "phase" of offense, and that they can more continually produce, or maybe gain their first player with an On Base Percentage over .400.
This article was first featured on www.thesportsage.blogspot.com