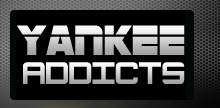 May 3, 2009 · Lucian Chase · Jump to comments
Article Source: Bleacher Report - New York Yankees
There is no questioning it, C.C Sabathia was unstoppable last year for the Brewers. Through 17 starts, he only gave up more than three runs once and threw seven complete games. He was by far the most dominating pitcher in baseball.
Mark Teixeira had a superb year last year. He was aggressive and highly productive for both the Braves and Angels, batting .308 with 33 homers and 121 RBI. He also boasted a superb on-base percentage of .410. He was right up there with the best offensive players in the league.
So after outstanding years for both players, what happened? What always happens.
Steinbrenner picked up the phone.
Sabathia was awarded an outrageous seven-year, $160 million deal to move to the Bronx, while Teixeira received eight-year, $180 million deal to follow C.C to the new Yankee stadium. In year one, they will be paid a combined $35,910,714—that's as much as the entire Florida Marlins roster. A whole team (who by the way have a better record) on two players!
So a month into the new season, how are the team-sized dynamic duo doing?
Sabathia, in six starts, has only one quality outing and is sitting on a rather ugly 1-3 record with a 4.85 ERA. If you take his salary on a monthly basis and charge the Yankees based on his wins per month, that one win in April cost George and company $2,547,619. Pretty pricey for a win over Kansas City…
Teixeira is also not looking like the guy who was a power house for the Angels in the second half of last year. With 77 at-bats under his belt, Tex is batting just .183 with three long balls and is currently just two for his last 24.
Money well spent? Let's hope for Steinbrenner's sake that they both turn around in the coming months.