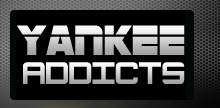 April 10, 2010 · Christopher Woodley · Jump to comments
Article Source: Bleacher Report - New York Yankees
CC Sabathia (1-0) was four outs away from pitching the 12th no-hitter in Yankees history. But with two outs in the bottom of the eighth inning, Kelly Shoppach, who was Sabathia's teammate in Cleveland from 2006-08, singled to left to end the no-hit bid. While Sabathia was nearly flawless on the mound, New York pounded out 10 runs on 14 hits in a 10-0 shutout Saturday afternoon at Tropicana Field.
Sabathia retired the first 12 Rays before walking Evan Longoria to lead off the bottom of the fifth inning. The no-hit bid was preserved by Mark Teixeira, who made a diving catch of a liner off the bat of Willy Aybar to end the sixth inning. Alex Rodriguez also made a diving stop on a hard grounder and Teixeira scopped up the throw at first to retire B.J. Upton to end the seventh. After Shoppach broke up the no-hitter in the eighth, Sabathia left after allowing only one hit while striking out five and walking two.
His 7.2 innings of no-hit ball was the longest he had ever thrown without allowing a hit. Sabathia tossed seven no-hit innings while pitching for Cleveland in a 2002 game against Detroit.
New York broke a scoreless tie in the top of the fourth inning on a two-run home run by Robinson Cano off of Tampa Bay starter Wade Davis (0-1). Brett Gardner led off the fifth inning and eventually scored on an RBI single by Derek Jeter. Teixeira then broke a 0-17 slump to begin the season with an RBI double to give the Yankees a 4-0 lead.
The Yankees added six runs in the final two innings to reach double-figures for the first time this season. In the eighth, Curtis Granderson singled in a run, and Gardner picked up an RBI by reaching on a fielder's choice. Francisco Cervelli, who was starting his first game of the season behind the plate, increased the advantage to 8-0 on a two-run double to right field. The final two runs were scored in the ninth on Cano's RBI single and a bases loaded walk to Gardner. Every Yankees starter except Nick Johnson collected at least one hit.
New York and Tampa Bay will conclude their three-game series on Sunday. A.J. Burnett (0-0, 5.40) will start for New York while Tampa Bay will counter with James Shields (0-0, 4.50). First pitch is set for 1:40 p.m. ET.
Read more New York Yankees news on BleacherReport.com