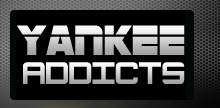 November 26, 2012 · Phil Watson · Jump to comments
Article Source: Bleacher Report - New York Yankees
Free-agent catcher Russell Martin is still waiting for the New York Yankees to make an offer, according to George King of the New York Post.
While he waits, however, the New York Times reported on Saturday that Martin might be considering a position change.
Martin wants to play shortstop for the Canadian team during the World Baseball Classic next spring, according to the Times. And it's an idea that the head coach for Baseball Canada is apparently open to.
Greg Hamilton has used Martin both at shortstop and third base for the Canadian team in the past, though Martin has never played a game at shortstop as a big leaguer and played just one game there in the minors.
That was in his first year in professional ball, playing for the Los Angeles Dodgers' Gulf Coast League affiliate. He was a shortstop and third baseman in high school and college, according to the Times, and played 40 games at third base and one at shortstop as a 19-year-old first-year pro in 2002.
He was moved to catcher the following season and has played almost exclusively behind the plate since.
In the majors, Martin started eight games at third base for the Dodgers in 2008. As a Yankee, he played four innings in three games at third and two innings in one appearance at second base.
Team Canada has Martin and Oakland Athletics catcher George Kottaras on its roster, but no shortstop with major league experience.
"If it's something that would help the team, I am willing to do it," Martin told the Times. "I told Greg I want to do it, and he said he's open to it."
During his two seasons with New York, Martin has regularly taken grounders at shortstop with the other Yankee infielders. He said, "It's my most natural position."
The report was first published on Friday in La Presse, a French-language newspaper in Martin's hometown of Montreal.
Martin doesn't expect any potential big-league employer to be against the idea of him playing the middle infield during the WBC.
"It's a lot less dangerous than catcher," Martin pointed out.
Meanwhile, Martin's quest for a new contract continues. A source told King for Sunday's Post that negotiations are moving very slowly.
"They've been dragging their feet," said King's source of Martin's approach to negotiating with teams. "People believe he really wants to stay with the Yankees and the Yankees don't have anybody in-house to replace him."
Industry experts think Martin can command a three-year deal valued at somewhere between $8 million and $10 million per season, according to King.
Martin earned $7.5 million in 2012 and negotiations last winter on a three-year extension for approximately $20 million didn't produce any results.
Martin was not offered the $13.3 million qualifying offer by the Yankees, meaning the club would not receive a compensatory draft pick were he to sign elsewhere.
The best available free-agent option at catcher would be A.J. Pierzynski, who hit 27 homers and drove in 77 runs for the Chicago White Sox in 2012. But Pierzynski, 36, is six years older than Martin and is said to be seeking a multi-year deal.
Read more New York Yankees news on BleacherReport.com