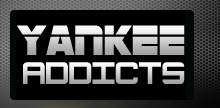 April 23, 2009 · jonathan staub · Jump to comments
Article Source: Bleacher Report - New York Yankees
(For the record: this photo was chosen so illustrate the empty seats. Ironic, isn't it? Mark Teixeira, the big off-season acquisition who cost more money than half of baseball's payrolls is overshadowed by the lack of people willing to spend the money to see him.)
Rumor has it that the New York Yankees and the neighboring New York Mets will be meeting to discuss the ticket prices of their premium seats.
For those of us who have been watching the Yankees and Mets on television, the large quantities of empty seats around home plate and up the foul line are hard to miss.
The Yankees have been charging $500-$2,625 for Legends Suite tickets in 25 sections at the new Yankee Stadium in the first nine rows around the infield, an area that contains 1,895 seats.
The Mets are charging an average of $175-$495 for 1,567 seats in the Delta Club, which includes 20 rows between the dugouts.
Fans have responded unfavorably to these prices, and there has been nothing but embarrassing publicity in regards to the empty seats and high prices; especially for the Yankees.
To put it in perspective, if you were to take a family of four to a game at the new Yankee Stadium, and opted to sit in these Legend Suite seats, the tickets alone would cost you $2,000-$10,500.
Should you opt to attend all 81 home games…well…try to wrap your head around this.
81 games in the Legends Suite seats could run an individual $40,500-$212,625. Should you consider purchasing 81 games for that same family of four…$162,000-$850,500.
Say that out loud to yourself just once. Eight hundred-fifty thousand, five hundred dollars…
While the Mets prices are somewhat more reasonable, and comparable to prices for the same seats in the old Yankee Stadium, they are still overpriced and resulting in hundreds of empty seats.
The Mets are currently 6-9, and it is safe to assume that they are going to turn things around, but what is unlikely is to assume that fans will pay for overpriced seats to watch a team struggle for any period of time.
As for the Yankees, there is really no fathomable explanation for attempting to justify charging $2,625 for a seat.
For a team sitting at 9-6, and struggling to meet expectations the past few seasons, if this is some kind of way to make up for the big contracts given out in the offseason, then management needs to reconsider its $200-million+ payroll.
Baseball is America's pastime, and separating the blue-bloods from the blue-collar is taking the fun out of the ballgame experience.
No baseball game is worth this kind of money, nor is any seat. New York, both teams, is not only robbing it's fans of money, it's robbing hundreds of kids of the experience of attending a Major League Baseball game.
Bud Selig has been vocal in his belief that the media is making a bigger deal out of this than it really is, and word out of the Mets organization is that they are considering no such move in regards to lowering ticket prices.
"Ticket prices start at $11. Interest in coming to games at Citi Field is strong. Sales of season tickets and ticket plans are up 8 percent over 2008. Sale of single game tickets for April and May games are double what they were for 2008," Mets spokesman David Newman said in an e-mail.
Selig has also told the Associated Press that the ticket prices are a matter for the teams to discuss, and not Major League Baseball.
"They're off to a very good attendance start. One team is averaging 44,000 (the Yankees are at 44) and the Metsies are averaging 37,000," Selig said. "So it would be hard if I went to Pittsburgh or somewhere today and tell them, gee, you know, those two New York clubs are really struggling."
Being from Pittsburgh, what I can tell you is that you can go down to PNC Park, one of the best stadiums in all of sports, and get a front row seat in the outfield for six dollars.
Premium seats in PNC Park, known as the Lexus Club, are $185.
Now I know better than anyone that the Pirates are not the Yankees or the Mets, but even $185 is overpriced.
Major League Baseball should be focused on bringing fans back to the game after the Steroid Era turned so many people off of the game. While Selig is adamant that MLB will not intervene on ticket prices, MLB should be monitoring issues such as this.
Bringing fans to the game should be baseball's number one concern.
While it is still early in the season, and things could change, baseball's primary problem seems to always be money; not only is a salary cap needed, price regulation should be monitored as well.
One more time…say it out loud to yourself.
TWO THOUSAND SIX HUNDRED TWENTY FIVE DOLLARS for one seat to see a baseball game.
I love baseball as much as the next person, I have played for over 20 years. I'd rather see a baseball game than anything else and I think it is one of the best things since sliced bread.
But I can think of at least 2,625 things I'd rather do with $2,625 before I would spend that much on a seat at a baseball game.