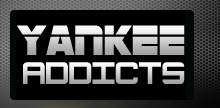 November 14, 2011 · Brian Buckley · Jump to comments
Article Source: Bleacher Report - New York Yankees
Saying the New York Yankees need starting pitching is as obvious as when Donnie told The Dude the phone was ringing in The Big Lebowski.
After watching A.J. Burnett "just try to have fun," the "dead arm" of Phil Hughes never be resuscitated and Bartolo Colón disintegrate down the stretch, it's quite clear new blood is vital on the mound in the Bronx.
Needless to say, New York has arguably the best ace in the game in CC Sabathia. But, the lingering question haunting the Yankee Universe remains: Who will follow CC in the rotation?
Ivan Nova emerged as a serious player in the rotation, but the sophomore slump is all too plausible. So, what are the Yankees' options if this scenario were to come to fruition? Which free agent will be behind Sabathia on the depth chart?
With slim pickings on the going market for pitchers, the Yanks might be forced to make a run at someone they don't really want in addition to overpaying dearly for their services. Roy Oswalt could be the biggest beneficiary of that possibility.
"The Wizard of Os" now finds himself a free agent after 10 stellar years in Houston and a cup of coffee in Philadelphia. As Oswalt pursues his last big payday, his agent, Bob Garber, has been trumpeting his client's accolades.
Garber, who has been flirting with the New York media, told ESPN New York that both C.J. Wilson (Garber represents him) and Oswalt "love New York."
Oswalt has made a career out of being a sought-after commodity. With a record of 159-93 and a 3.21 ERA throughout his tenure, he established himself as one the past decade's best hurlers. Furthermore, he has been one of the most highly regarded pitchers in terms of innings pitched throughout his profession.
With age and injuries, however, his durability has come into question.
With 34 years under his belt, the slender right-hander shows signs of breaking down as of late. Recently, multiple stints on the disabled list have raised serious questions as to whether Oswalt can still produce at the highest level.
If Oswalt asks for a four- to five-year deal, should the Yankees really get involved?
Oswalt, Wilson and Buehrle sit alone as the most sought-after pitchers this winter. Undoubtedly, the Yankees are inquiring about all three of them, but it's quite conceivable that Brian Cashman and his suits will only get their hands on Oswalt.
While Buehrle might be flattered he's getting so much attention this offseason it's possible the Missouri native will stay close to home and finish his career on the South Side. After spending his entire life in Middle America (high school and college in Missouri), it will be hard to see Buehrle wanting a change of scenery.
In the case of Wilson, the Yankees have been quite public of their desire for the 30-year-old left-hander. The Angels, in turn, have stepped in and emerged as a player to land the SoCal native. Moreover, some rumors claim Wilson, a California resident during the offseason, has expressed interest in Anaheim as well.
If the stars aligned and these situations were to occur, New York would desperately turn to Oswalt, and in signing him, end up giving in to his demands.
With last year's lack of pitching prowess, Brian Cashman knows the team was lucky to get as far they did. Sitting on his hands this offseason will not suffice. If he can get past the "back issues" and agree to a short-term deal with Oswalt, then Cashman needs to pull the trigger.
He doesn't want to be stuck without a date to the prom.
Read more New York Yankees news on BleacherReport.com