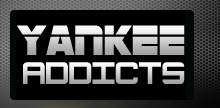 May 12, 2009 · Eric Balkman · Jump to comments
Article Source: Bleacher Report - New York Yankees
If only I was a Yankee fan.
Rooting for the Bronx Bombers really is baseball nirvana, isn't it? After all, New York is seemingly in the pennant chase until at least mid-September every single year. And it would be so nice to cheer for a team that considered anything less than perennially winning the World Series a colossal failure.
Honestly, I am pretty sure that Yankee owner George Steinbrenner would rather have his team contracted from baseball than try to endure a rebuilding season. Say what you want about Steinbrenner, but he simply tries harder to win than any other owner, even if it means splurging on the most irresponsible spending spree since Paris Hilton discovered Louis Vuitton.
Steinbrenner is not oblivious to our nation's economy, either. He knows just as well as anyone that the U.S. is suffering through its worst recession since World War II. While almost every single other baseball franchise slashed payroll in these tough times, Steinbrenner doled out cash so fast that his checkbook started smoking.
New York signed three free agents this offseason—A.J. Burnett, CC Sabathia, and Mark Teixeira—to contracts totaling over $420 million. And if that's not enough, New York opened up the brand new Yankee Stadium this season, which cost only a mere $1.6 billion.
When all other baseball teams zig, the Yankees zag.
Fans everywhere covet the seemingly-bottomless money bin that Steinbrenner uses to snatch their home team's superstars. In fact, every year the Yankees are always one or two players away from being involved in the "greatest team of all time" discussion.
And this is why I wish I was a Yankee fan.
Every team in major league baseball—no matter its size in the market or payroll constraints—has the option to spend frivolously, but New York is the only team that takes full advantage of it. Because of Steinbrenner's addiction to winning, the Yankees will always bring in the best available talent—regardless of cost—which their fans adore. In the eyes of many Bronx supporters, "buying a championship" is the same as "winning a championship"—and I must admit, I don't see a difference, either.
It's for these reasons that the New York Yankees are a necessary evil—every great drama needs a bad guy. Star Wars needs Darth Vader. Batman needs the Joker. Major League Baseball needs the Yankees.
And this is why I can't root for New York.
After all, if we were all Yankee fans, who would we hate?