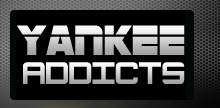 October 28, 2010 · Mike Salvatore · Jump to comments
Article Source: Bleacher Report - New York Yankees
With the sting of the New York Yankees loss to the Texas Rangers in the American League Championship Series still fresh in the minds of many Yankee fans, many are demanding drastic changes.
The uninspired six game defeat to the upstart Rangers will surely result in some roster turnover.
Pitching coach Dave Eiland has already had his fate determined, as he was fired earlier this week.
Once the World Series ends, Yankee fans will have visions of Cliff Lee and Carl Crawford dancing in their heads and no doubt the 2011 version of the Yankees will be different then the 2010 model.
There already has been one change that may have gone unnoticed during the regular season, but became very apparent during this post season—the New York Yankees are now Robinson Cano's team.
Some of you may be doing a double take at this last sentence or are even finding it hard to fathom that little old lazy Robbie Cano has now taken charge of the Yankees, but trust me, the proof is right in front of you.
Cano was no doubt the Yankee's MVP (and a strong case can be made for AL MVP as well) this season.
He played in nearly every game, played gold-glove caliber defense, lead the team in average and OPS, was tied for second on the team with 109 RBIs and was tied for third on the team with 29 homeruns.
Now, some skeptics might say it was about time that Cano had finally put all the pieces together and realized his potential, but this team still belongs to Derek Jeter and to a lesser extent Alex Rodriguez and Mark Teixeira.
I think this past postseason will put any of those doubts to rest. Cano led the team hits, hit four home runs and had six RBIs during the Yankees most recent post season run.
The RBI total doesn't seem like much, but considering he was one of two Yankees (Curtis Granderson being the other) that hit over .300 during the postseason, those numbers are even more impressive.
Considering A-Rod hit .219 and Teixeira hit .148 (including an 0-14 effort in the ALCS) just stresses how important Cano really has become to the team.
It is a testament to Cano's work ethic that he has been able to rise so far so fast in his career, despite the criticism he's received in the past from the front office and Yankee fans.
It always amazed me that people questioned Cano's work ethic. The man was a ho hum second basemen in the minor leagues that hit around .270 and was average defensively at best.
Maybe his .342 average in 2006 was a bit of an obscurity, but he has been a consistent .315 hitter during his tenure with the team and he always seems to respond to the criticism.
Rewind back to the 2008 season, when Cano struggled for the first time in his career as he hit a meager .270 and had the fans in a tizzy because they viewed him as lazy and indifferent.
His defense was skeptical and it seemed like the Yankees would trade him while he still had any value.
Cano came back in 2009 and put together a strong offensive campaign and played strong enough defense where he was considered a favorite to take home a Gold Glove.
This year, manager Joe Girardi penciled in Cano to take over for Hideki Matsui in the 5th spot of the batting order.
Many fans questioned this move, but Cano responded by putting together a monster season and become what many believe is the most complete second basemen in baseball.
Did I mention he was ninth in baseball this season with .381 on base percentage and had a career high 57 walks?
When A-Rod was dealing with his nagging injuries this year, Cano was entered into the cleanup spot in the lineup and continued to produce.
When Tex went down during the ALCS, Girardi once again turned to the Yankees best player to try to save their season as he entered Cano in the three hole.
Yes, Derek Jeter is still the face of the New York Yankees and because of those massive salaries, Alex Rodriguez and Mark Teixeira are also viewed as the other mega stars of the franchise.
Ask yourself one question though Yankee fans: Throughout the season, and especially during the postseason, who was the one Yankee you had the most faith in and knew would come through for you?
Not such a slacker anymore, is he?
Read more New York Yankees news on BleacherReport.com