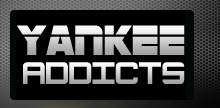 April 16, 2010 · patrick bohn · Jump to comments
Article Source: Bleacher Report - New York Yankees
If you were a fan of the Yankees or Red Sox in the mid to late 90's, you no doubt took a side in the Nomar Garciaparra/Derek Jeter debate.
Jeter and Garciaparra were two of the new breed of shortstop. Shortstops were no longer defensive specialists and merely adequate with the bat—Jeter and Garciaparra were two of the premier hitters in baseball.
Both won Rookie of the Year awards, Jeter in 1996 and Garciaparra one year later.
From a pure hitting standpoint, Garciaparra was better, at least in his peak. His power numbers and average were much higher. In his first four years in the majors, through 2000, Nomar had a .963 OPS, averaged 28 home runs and won two batting titles, compared to Jeter's .865 OPS and 16 HRs in that same span.
Yankee fans countered with Jeter's .323 postseason average, which included a .342 average in four World Series victories, culminating in a 2000 World Series MVP.
But then a funny thing happened: Garciaparra started getting hurt. He missed almost all of 2001 with a wrist injury, and although he rebounded nicely in 2002 and 2003, he was never the same after that, playing in only 506 games for a collection of teams from 2004 to 2009, hitting just 56 home runs and collecting a .789 OPS.
In that same time frame, Jeter kept plugging along, cranking out 200 hits a season to go along with a .317 average, two top-five MVP seasons, and another World Series ring.
The debate is over. In baseball, longevity matters, and Jeter has appeared in 700 more games than Garciaparra, with the gap only to widen.
But now, there's a new infield debate raging between the two cities—one that's just as contested. One that occurs about 50 feet away from where the previous one did.
Robinson Cano or Dustin Pedroia?
On one side, you have Pedroia, a Rookie of the Year winner in 2007 and an MVP a year later. Just 26, Pedroia's a phenomenal all-around player with some impressive career numbers: .309/.371/.462/.833 with a pair of 20-steal seasons
Cano is 27, finished second behind Huston Street in the 2005 ROY voting, and has a similar career line: .308/.340/.484/.823.
Both have World Series rings.
Pedroia's the more consistent of the two; although his batting average dropped 30 points from 2008 to 2009, Cano's fell 71 points in a two-year span from 2006 to 2008 before jumping up 49 points last season.
Pedroia's also more versatile than Cano, as his steal numbers and ability to draw walks would attest. However, Pedroia also appears to benefit strongly from playing in Fenway Park, whereas Cano's numbers are virtually identical on the road.
Pedroia splits
Home: .332/.391/.507/.898
Road: .287/.353/.419/.771
We're not talking Coors Field here, but a 127-point different in OPS after 2,100 plate appearances is pretty significant
Cano splits
Home: .307/.337/.486/.823
Road: .308/.342/.482/.824
It's possible Cano's splits may change with this new Yankee Stadium—his 2009 OPS was 80 points higher at home. But even that dwarfs the difference you see in Pedroia's numbers. To me, the fact that Cano is the better hitter on the road means something.
As for fielding, Pedroia is clearly the better glove man.
According to fangraphs.com, Pedroia's Ultimate Zone Rating, or UZR, per 150 games is 7.4. Cano's is -5.4. Pedroia's fielding has been worth 21 runs to the Red Sox in his career; Cano's has cost the Yankees 26.
Pedroia's career Wins Above Replacement beats Cano 15.8 to 14.1. Pedroia also has the edge in postseason numbers, although both players see their numbers drop.
Neither hitter is showing signs of slowing down this season. Through nine games, Pedroia's got a line of .405/.442/.811, and Cano has a .395/.400/.816.
Right now, the edge has to go to Pedroia, home/road splits notwithstanding. But Cano's in the ballpark. And remember: Nomar had the edge when he and Jeter were 26 as well.
Things can change.
Let the next great infield debate begin.
Read more New York Yankees news on BleacherReport.com