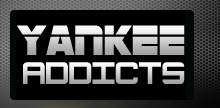 June 22, 2009 · Heartbeat Of The Bronx · Jump to comments
Article Source: Bleacher Report - New York Yankees
Yankees 2B Robinson Cano has been credited with having a very productive season—currently on pace for 28 HR, 99 RBI, 108 R, 200 hits, and a .300 batting average.
The problem, however, is that many fans are overlooking the stark differences between his season numbers and Cano's performance in the heart of a clutch situation.
Time and time again, the talented young slugger will roll over an outside pitch—resulting in a double play or feeble groundout.
The biggest moments seem to paralyze Cano.
He is always one of the first players out of the dugout to hug Melky Cabrera after a thrilling last-second victory, but he is never the Yankee wielding a bat when those moments manifest themselves.
Cano has dethroned Alex Rodriguez as the "King of the Meaningless RBI," as he consistently piles up statistics in games often confused with football scores.
In Yankee victories, Cano is hitting a robust .377 with 23 extra base hits and 39 runs scored. In losses, he has hit just .219 with six extra base hits, a .246 OBP, and scored seven runs.
Though these numbers are alarming and thought-provoking, they do not tell the entire story—as perhaps Cano has been a major catalyst in important, nail-biting victories.
Unfortunately, the numbers agree with the always important "eye test" that this is not the case.
With two outs and runners in scoring position, Cano is hitting just .212—unable to drive in virtually any of the backbreaking runs that help to grind out close games.
To further emphasize Cano's inability to rise to the occasion, he hits .384 with no outs in an inning, and a startling .391 when the Yankees lead or trail by four or more runs.
Twenty-five percent of his home runs and runs batted in have been generated in these "blowout games."
When removing these meaningless hits, Cano becomes nothing short of ordinary. He would be just a .288 hitter with a .324 OBP—on pace for 21 HR and 74 RBI.
Many hitters would have similar drop-offs in power numbers when removing blowout victories from their stat lines—and it is unfair to do so—but it is important to show the impact on Cano's batting average and on-base percentage.
Cano has also failed miserably in key American League East matchups. After excluding games against the hapless Orioles, Cano is batting .228 (18-for-79) against divisional opponents.
Games against Boston, Tampa Bay, and Toronto often determine the Yankees' playoff fate—as they face these three teams a combined 54 times.
Largely responsible for protecting A-Rod for the majority of the season, Cano has had a bevy of important RBI opportunities.
The successes of Johnny Damon and Mark Teixeira—coupled with the recent failures of A-Rod—have placed key at-bats with RISP in the hands of Cano. If he was able to come through at higher rates, the Yankees would have been able to capture a few more of the recent closer and heartbreaking losses.
Cano is playing just his fifth major league season and has plenty of time to evolve into a dangerous middle of the order hitter. However, it appears as though he might not be ready to carry that torch at this stage of his career.
Although Cano carries himself as a cool, smooth, laid-back performer without a care in the world, he needs to find a way to remove the lump from his throat in game-changing situations.
The Yankees need you, Robinson Cano, and it is time to elevate your game and progression to the next level.
Also seen at: Heartbeat of the Bronx