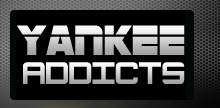 November 5, 2010 · Nick Santa Maria · Jump to comments
Article Source: Bleacher Report - New York Yankees
As the baseball world enters into free agency, I begin to wonder about the status of the Yankees if they had traded Robinson Cano.
As you may or may not know, Alex Rodriguez was traded from the Texas Rangers to the New York Yankees in exchange for Alfonso Soriano and a player to be named later. Now the Rangers had around five choices, but mainly had their eyes on two, Joaquin Arias and Robinson Cano.
Joaquin Arias, plagued with injuries and poor hitting, proved to be a huge bust for Texas.
So, why did the Rangers choose Arias over Cano?
No one truly knows. Most say it was due to age (Arias is two years younger than Cano) and "better" defense.
Arias was traded to the New York Mets in exchange for Jeff Francoeur this past August. Even with the struggling Mets, Arias proved to be of no service.
Most recently, Arias was claimed by the Kansas City Royals and will possibly begin the season with them. So much for a coveted prospect.
And then there's Robinson Cano.
Arguably the best second baseman in baseball, Robinson Cano has proved himself to be the better prospect. From his rookie season all the way up to this past ALCS only furthers this point, as Cano has gotten MVP consideration in 2006 and 2010 respectively.
Can you imagine what the Texas Rangers lineup would look like with Cano? Two words: absolutely deadly. I think if the Rangers had chosen Cano over Arias he'd fit beautifully as the number three hitter.
Possible Lineup (Without Ian Kinsler)
Elvis Andrus, SS
Michael Young, 3B
Robinson Cano, 2B
Josh Hamilton, CF
Vladimir Guerrero, DH
Nelson Cruz, RF
Mitch Moreland, 1B
Jeff Francoeur, LF
Bengie Molina, C
(I'm not sure where Ian Kinsler fits in here, as he is also one of the best second baseman in baseball. Position switch? DH?)
The Yankees would have a gigantic gap in their lineup without Robinson Cano, easily the Yankees' MVP of 2010.
Tony Womack? Free Agents? At this point in time, no one can replace Robinson Cano on the New York Yankees. Expect him to thrive in New York for the rest of his career, as he is the next face of the franchise.
Did I mention Cano was almost traded to the Twins, too?
Read more New York Yankees news on BleacherReport.com