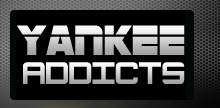 May 9, 2013 · Kenny DeJohn · Jump to comments
Article Source: Bleacher Report - New York Yankees
New York Yankees star Robinson Cano tallied career hit No. 1,500 in the third inning of Thursday's game against the Colorado Rockies, furthering his pursuit of becoming one of the top offensive second baseman in Major League history.
Cano hit a ground ball up the middle that Rockies second baseman Josh Rutledge was able to make a play on, but Cano beat the throw to first after Rutledge struggled to plant and make a strong throw. The MVP candidate and impending free agent finished the day 2-for-4 with a home run in the top of the fifth inning.
On the season, Cano is hitting .311 with nine home runs and 20 RBI.
Cano joined elite company with his 1,500th career hit. He became the fifth-youngest Yankee to reach the milestone, with only Derek Jeter, Mickey Mantle, Lou Gehrig and Don Mattingly getting to that mark quicker (via Jack Curry of the YES Network).
Cano's 1,501 career hits have come in 1,247 games (4,866 at-bats). That comes out to approximately 1.2 hits per game. He entered the 2013 season with 1,461 hits in eight seasons, meaning that he has averaged nearly 183 hits per season.
If he were to keep that pace consistent over the next eight seasons, Cano would have about 2,922 hits—a mark that would make 3,000 hits seem like an easily attainable milestone should he stay healthy. Given the fact that Cano is still in his prime, it's reasonable to say he could reach that mark within the next eight seasons in question.
Barring any major health injuries, Cano could feasibly play 20 seasons in the majors and rack up more than 3,500 hits. If he were to finish at exactly 3,500, he would rank sixth on the all-time hits list behind only Tris Speaker (3,514), Stan Musial (3,630), Hank Aaron (3,771), Ty Cobb (4,189) and Pete Rose (4,256).
That would put him in extremely elite and exclusive company, but the projections aren't as unrealistic as they may appear. Even if he slows down significantly after his 16th season (at which point he'd be 38 years old), 3,200 hits would still be attainable.
Cano is on the path to greatness, and Thursday's milestone was just a brief stop along the way.
Read more New York Yankees news on BleacherReport.com