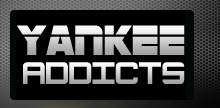 April 28, 2013 · Brandon Mauk · Jump to comments
Article Source: Bleacher Report - New York Yankees
Going into the season, there were so many predictions of doom and gloom for the New York Yankees. Some of them were warranted, given all the injuries and age on the squad and a disastrous offseason. Some, however, were just ridiculous, completely ignoring the strengths the Bronx Bombers still had.
They were ready to explode after a 1-4 start in which they looked completely anemic in every way. But after a 13-5 stretch since, they're starting to calm a bit.
That's right, your New York Yankees are 14-9—only 2.5 games behind the also-surprising Red Sox for the AL East lead. How has it happened?
Quite simple: pitching, pitching and more pitching. The Yankees staff has a 3.87 ERA. Not elite, but good enough to keep them in ballgames. CC Sabathia, with his best stuff and velocity still yet to come, has been steady with a 4-2 record and 3.35 ERA.
Andy Pettitte and Hiroki Kuroda have been spectacular, both 3-1 with ERA pluses over 140. They are invaluable to this team, and the Yankees need to be able to keep them healthy and fresh.
Mariano Rivera is back and as good and consistent as ever. He's a perfect 8-for-8 in save opportunities, surrendering just two runs in nine appearances. Outside of one poor outing, setup man and escape artist David Robertson has been solid—eight strikeouts and just two walks in 8.2 IP.
What has also gotten the Yankees going is the offense. Robinson Cano has played like an early front-runner for MVP, posting a .326/.379/.632/1.010 line with seven homers and 17 RBI.
But what's been really shocking are the contributions from Vernon Wells and Travis Hafner. After hitting .222 in his previous two seasons in Anaheim, Wells is hitting .309 with a .954 OPS. And the man they call "Pronk" is tearing the cover off the ball, hitting .309 and posting a monster .727 slugging percentage (1.160 OPS).
Of course, there still remains plenty of room for improvement and some more concerns. None more than the ever-continuing injuries. With Alex Rodriguez, Curtis Granderson, Derek Jeter and Mark Teixeira all still out with no clear timetables for return, the Yankees will need to stick with replacement guys for a while longer.
It doesn't help when there have been more injuries. Kevin Youkilis has been bothered by a bad back. Francisco Cervelli broke his hand Friday night and will be out for six weeks. That's very unfortunate considering how well he was playing as starting catcher.
Another concern right now is the team's depth in all facets, especially against LHP and in the back end of the rotation and bullpen. The Yankees have hit just .217 with a .631 OPS against lefties, both second worst in the AL. Brett Gardner and Ichiro have struggled at the dish so far, but they should get the benefit of the doubt. Give them time, and I'm sure they'll start to play better.
It's probably more to do with injuries and the amount of left-handed bats in the lineup, but the struggles versus lefties is a serious problem right now. For some reason, Joe Girardi keeps batting Ben Francisco in the middle of the order against LHP, and he has three hits in 29 at-bats.
The back end of the rotation and bullpen have also been poor. Phil Hughes struggled in his first two starts after being rushed back from a back injury but has pitched better in his last two: four runs in 14 innings. Ivan Nova has been totally ineffective and has already found himself on the DL due to inflammation in his arm.
Despite deceiving ERAs, Joba Chamberlain and Boone Logan have been inefficient: too many baserunners and blown leads. Chamberlain was forced to save a one-run lead Saturday and barely escaped in the 5-4 win over Toronto. Logan has come in and twice blown a lead via inherited runners. Not good for somebody who was the only LOOGY in the pen.
But hey, if you're a Yankees fan, you cannot help but be pleased with the team's success thus far, considering all the apocalyptic preseason predictions by fan and pundit alike. Look at the Blue Jays, whom everyone predicted to win it all. They're 9-16, and the Yankees have already taken five of six from them.
I think it's encouraging that the Yankees still have room for improvement; it just remains to be seen whether it will happen or things will simply get worse. But hey, that's why it is a long season with 162 games. Nothing's decided yet—we have a long way to go. But right now the Yankees are trending upward.
Read more New York Yankees news on BleacherReport.com