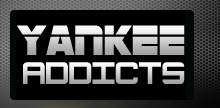 December 22, 2009 · Alex Geshwind · Jump to comments
Article Source: Bleacher Report - New York Yankees
According to Jon Heyman of SI.com, the Atlanta Braves will trade Javier Vazquez to the New York Yankees for centerfielder Melky Cabrera, lefty reliever Michael Dunn, and Arodys Vizcaino.
Vazquez had a career year in 2009, with a 2.87 ERA, 5.41 K/BB ratio, and 2.77 FIP. Vazquez, who was acquired by the Yankees in 2004, has since pitched for Arizona, the White Sox, and most recently, the Braves.
Cabrera had arguably his best season in 2009, hitting .274 with a .331 wOBA and playing a solid defensive centerfield.
Once one of the Yankees' better prospects, he's settled into a role as a solid starter/fourth outfielder, who can hit at a league average level, and play decent defense, with a great arm. He would be a good fit at any outfield position for the Braves in 2010, although he's best in right.
Dunn is a hard throwing lefty reliever who pitched three levels in 2009, eventually making it to the big leagues. His career minor league K rate is well over 9, although he has struggled a bit with his control.
Vizacaino, the Yankees No. 3 prospect going into 2010 (according to Basball America), is a young, hard throwing starter with tremendous potential. The 18-year-old had a 2.13 ERA and 11.06 K rate at low A ball last year.
The Yankees will also acquire reliever Boone Logan.
This article was originally published at FantasyBullpen.com . Alex Geshwind can be reached by email (alex.geshwind@fantasybullpen.com) or on Twitter .
Read more New York Yankees news on BleacherReport.com