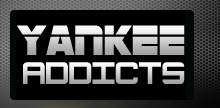 March 13, 2013 · Doug Rush · Jump to comments
Article Source: Bleacher Report - New York Yankees
When Joba Chamberlain first came up in the majors, he was a can't-miss flamethrower.
Now in 2013, the New York Yankees might be willing to wave goodbye to him.
According to CBS New York, the Texas Rangers are keeping tabs on Chamberlain, as they have sent an assistant to GM Jon Daniels down to Tampa, Fla., to watch him pitch.
Report: Texas Rangers are scouting Joba Chamberlain. Would you trade him, #Yankees fans? | cbsloc.al/YaX5Bd

— WFAN Sports Radio (@WFAN660) March 13, 2013
The 27-year-old is in the final year of his contract with the Yankees and has expressed interest in becoming a starter again, something he hasn't done since 2009.
"This is probably going to spark a bunch of stuff, and (Yankees PR director Jason) Zillo is going to be mad at me, but it's one of those things where it's like, do you think you have the capability to start? Yes," he told the New York Daily News in late Feb. "Do I have four pitches that I can throw for a strike? Yes. Do I have two-plus pitches in the bullpen that I can throw at any time? Yes."
In his last season as a starter, Joba went 9-6 with a 4.75 ERA in 31 starts for the Yankees and struggled trying to convert from a reliever to a starter.
Since then, Chamberlain has struggled with injuries. He had Tommy John surgery in 2011 and then suffered an open dislocation of his right ankle in spring training last year, which set back his return.
In 2012, Joba was 1-0 with a 4.35 ERA in 21 starts for the Bombers when he returned from injuries.
In my honest opinion, unless the Yankees view Chamberlain as the next closer of the future, I really think it's time for them to move on.
They messed up badly by trying to make him into a starter when he was already a dominant reliever coming into the league.
His fastball was at 98-99 miles per hour and his slider was simply unhittable, and for a while, everyone thought the Yankees had their next closer after Mariano Rivera retired.
But as the Yankees tried to make him into a starter in 2008, Joba suffered a major setback with rotator cuff tendinitis, which put him on the disabled list.
Since that injury, Joba hasn't been the same power pitcher that he once was. When he rears back for a fastball, there's a few miles off on the fastball.
If the Rangers come to the Yankees and look to make a deal, the Yankees should be interested. If they can get any value for him right now, they should.
Better trade him now and get something back for him as opposed to letting Joba walk as a free agent and get nothing.
The Rangers had a little bit of a rough offseason, losing hitters Josh Hamilton and Mike Napoli as free agents and then losing out on Zack Greinke to the Dodgers.
With Texas looking to add more pitching to their staff, I can see their interest in Chamberlain as being legit.
The big question now becomes: What would the Yankees want in a return deal for him?
Stay tuned, Yankees Universe.
Read more New York Yankees news on BleacherReport.com