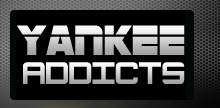 April 2, 2013 · Kenny DeJohn · Jump to comments
Article Source: Bleacher Report - New York Yankees
Robinson Cano is a free agent after the 2013 season (as I'm sure you all know) and will now be seeking new representation after firing Scott Boras early Tuesday morning (via Buster Olney of ESPN.com).
Cano will undoubtedly be the best free agent available next season and will cost teams a pretty penny to sign. Boras, the king of negotiating such deals, will no longer be a part of the process.
So what does this mean for the New York Yankees?
In my opinion, it means the Yankees now have a much better chance of re-signing their star second baseman.
Boras is known for waiting on teams to offer the highest amount of money possible. While that's certainly an agent's job, he's notorious for doing so. This would have made a contract with the Yankees extremely difficult. With the goal of lowering the payroll to $189 million for 2014, and most likely several seasons after, a contract for Cano exceeding $25 million per season would have been difficult to fit in.
Length may also have been an issue with Yankees general manager Brian Cashman. After signing Alex Rodriguez to a 10-year contract and Mark Teixeira to an eight-year contract, he may have qualms about signing another player to a long deal.
Boras likely would have sought a 10-year deal for his ex-client. Now, perhaps a more "reasonable" agent will be willing to accept a seven or eight-year contract, possibly with an average annual salary of around $20 million.
With options added on, Cano could essentially be looking at a nine or 10-year deal worth upwards of $175 million, and the Yankees could still have the flexibility to cut ties with him if he's struggling in the latter part of the deal.
The numbers are pure speculation on my part but if one thing's for sure: The fact that Boras is no longer Cano's agent should bode well for Cano and the Yankees. If Cashman is willing to meet Cano's demands, he'll be a Yankee for life.
Meeting Boras's demands would have been just a bit trickier.
Read more New York Yankees news on BleacherReport.com