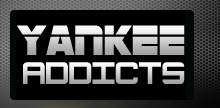 March 20, 2013 · Doug Rush · Jump to comments
Article Source: Bleacher Report - New York Yankees
Chien-Ming Wang is looking for a return to the Yankees in 2013.
On Wednesday, the 32-year-old took his next step in hopes of getting a potential deal done with his old club, according to Andy McCullough of the Newark-Star Ledger.
Chien-Ming Wang is having a tryout of sorts over the Yankees minor-league complex. Throwing for Yankees scouts.

— Andy McCullough (@McCulloughSL) March 20, 2013
Wang threw for scouts at the Yankees complex down in Tampa after impressing Yankees GM Brian Cashman from his performance in this month's World Baseball Classic tournament.
"We've talked to him for quite some time and he's agreed to work out for our people across the street, so that's what he'll do," GM Brian Cashman said. "We saw enough from him in the WBC to bring him in for a further look."
Wang pitched for the Yankees from 2005-2009 and went 55-26 during that time until he ran into injury trouble.
Wang suffered a season-ending foot injury running the bases against the Houston Astros back in 2008, and then suffered a season-ending shoulder surgery in the summer of 2009.
According to McCullough, when the Yankees scouted Wang at the WBC when he pitched for the Chinese Taipei team, his fastball was clocked at 93 miles per hour.
Since 2009 when he had the surgery to fix his shoulder, Wang has struggled to get his form and command back to where it was when he was the ace of the Yankees.
After missing all of 2010, Wang has pitched the last two seasons with the Washington Nationals.
Wang pitched 12 scoreless innings for the Chinese Taipei team, which is the reason why the Yankees brought him down to their camp for the throwing session.
If Wang had any hopes of joining the Yankees in 2013, it would have to be on a minor-league deal and if the Yankees did sign Wang, he'd likely have to begin the year down in Class-AAA.
The Yankees rotation is pretty much set with CC Sabathia, Hiroki Kuroda, Andy Pettitte, Phil Hughes and Ivan Nova with David Phelps as the sixth starter/spot starter/long reliever.
With Hughes' back acting up early on in spring training, it could be good to have Wang on call in case any other injuries happen to have.
Signing Wang to a minor-league deal can't hurt, as having starting pitching depth can never hurt a team.
And who knows, maybe Wang ends up finding that form he once had in pinstripes.
Stay tuned, Yankees Universe.
Read more New York Yankees news on BleacherReport.com