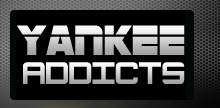 March 11, 2013 · Doug Rush · Jump to comments
Article Source: Bleacher Report - New York Yankees
The injury to Mark Teixeira has the New York Yankees searching for options.
It even has them searching for retired players.
According to Jack Curry of the YES Network, the Yankees are trying to get former Atlanta Braves third basemen Chipper Jones out of retirement to play in 2013.
Cashman said Chipper would be "perfect" for the Yankees.

— Jack Curry (@JackCurryYES) March 11, 2013
Joel Sherman of the New York Post confirmed Yankees GM Brian Cashman's interest in Jones.
The 40-year-old Jones hit .287 with 14 home runs and 62 RBI in his final season with the Braves, which many felt was his final year in professional baseball.
However, due to Mark Teixeira's wrist injury that will sideline him for eight to 10 weeks, the Yankees are searching all over for options to help the offense.
According to Sherman, Jones has said he's definitely retired, but the Yankees GM will not give up pursuit on him.
Chipper has said he is definitely retired but Cashman said he would be perfect at 1b 3b and DH #Yankees

— Joel Sherman (@Joelsherman1) March 11, 2013
Sherman also talked to Jones' agent, BB Abbott, who also said his client is intending to stay retired.
Just talked to agt BB Abbott who says can't see scenario where Chipper comes out of retirement #Yankees #Braves

— Joel Sherman (@Joelsherman1) March 11, 2013
If Jones were interested in playing again for one more year, he would make sense for the Yankees as a first basemen, third basemen and a DH.
The switch-hitter could add some versatility to the offense and give it some firepower that it might lack early on in the season due to Teixeira's injury, plus Alex Rodriguez and Curtis Granderson starting out on the DL.
I am very curious to see just how far Cashman will go to try and persuade Jones out of retirement and wonder just how much money he would give him in any kind of deal.
And, would Jones really play for the Yankees after spending 19 years with the Braves?
I've seen crazier things happen in baseball.
This one would be an absolute shocker if it did happen.
Stay tuned, Yankees Universe.
(UPDATE, 1:18 p.m. by Doug Rush)
It's looking more and more like Chipper Jones will stay retired in 2013.
According to Mark Feinsand of the New York Daily News, Jones was flattered by Yankees interest, but isn't interest in returning.
Chipper Jones' agent said that while he's flattered, the Braves legend has no plans to end his retirement – especially in a Yankees uniform.

— Mark Feinsand (@FeinsandNYDN) March 11, 2013
Jon Heyman of CBS Sports and WFAN talked to BB Abbott and said Jones "got a good chuckle" from the offer.
Chipper Jones got a "good chuckle" out of yankees inquiry, agent bb abbott said. #nolaughingmatter

— Jon Heyman (@JonHeymanCBS) March 11, 2013
Bryan Hoch from MLB.com talked to Brian Cashman, who said he'd love to have Chipper, but doesn't think it will happen.
Cashman confirmed he has reached out to Derrek Lee & Scott Rolen. Also said he'd love to have Chipper Jones, but doesn't think it'll happen

— Bryan Hoch (@BryanHoch) March 11, 2013
Looks like Jones was serious about his retirement plans. At least for now, anyway.
(UPDATE, 1:57 p.m. by Doug Rush)
Chipper Jones took the time on his Twitter account to address the rumors swirling around today involving the Yankees interest in him for 2013.
Enough with the rumors! While I am flattered about the speculation of being enticed out of retirement, I'm happy with life as a bad golfer!

— Chipper Jones (@RealCJ10) March 11, 2013
I think that's a very classy, but emphatic "thanks, but no thanks."
Read more New York Yankees news on BleacherReport.com