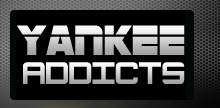 December 16, 2012 · Kenny DeJohn · Jump to comments
Article Source: Bleacher Report - New York Yankees
The New York Yankees outfield is thought to be set now with the re-signing of Ichiro Suzuki, but Nick Cafardo of the Boston Globe reports that the team is "quietly interested" in free-agent center fielder Michael Bourn.
Bourn, largely considered the best center fielder on the market, has not received the influx of interest that analysts thought he would receive early on this winter.
An outfield of Bourn, Brett Gardner/Ichiro and Curtis Granderson would probably represent one of the fastest outfields in the majors, and the defense of Gardner and Bourn would represent a huge boost for the Yankees.
This would likely relegate Granderson to a corner outfield spot—a spot where he should have been for the past couple of seasons.
Offensively, Bourn would provide a new dynamic to the powerful Yankees lineup. He can run and get on base consistently—something that Gardner has had problems doing early on in his career.
Last season, Bourn (almost 30), hit .274/.348/.391 with 42 steals.
Mike Axisa of RiverAveBlues.com made a good point regarding the rumor, and it's one that I happen to agree with 100 percent: The Yankees already have two players of Bourn's mold in their outfield in Gardner and Ichiro. Why is Bourn necessary?
Axisa again provides more intelligence on this matter by reminding us all that Bourn is a Scott Boras client and would require a draft-pick to sign. This means that there would be no discount—the Yankees are aiming at $189 million by 2014, remember?—and the team would lose a possible future player.
The Yankees are probably just doing their usual Christmas-time rounds at this point, though this situation should be monitored moving forward.
Brian Cashman has been painfully quiet this offseason, and he may be looking to make a big splash to make up for all the negative feedback he's gotten from the fans.
Read more New York Yankees news on BleacherReport.com