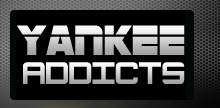 March 11, 2013 · Doug Rush · Jump to comments
Article Source: Bleacher Report - New York Yankees
The injury to Mark Teixeira has forced the New York Yankees to scramble for options.
With Teixeira out eight to 10 weeks with a wrist injury, the Bombers offense will lack pop at the start of the season.
According to David Waldstein of the New York Times, the Yankees are pursuing veteran Derrek Lee.
Yankees asked Derrek Lee to come out of retirement and play 1B.bats.blogs.nytimes.com/2013/03/10/yan…

— David Waldstein (@DavidWaldstein) March 11, 2013
Lee last played for the Pirates and Orioles in 2011, sitting out in 2012 after not receiving an offer he liked.
While splitting time with Baltimore and Pittsburgh, Lee hit .267 with 19 home runs and 59 RBI in 113 games played.
Even though he hasn't played in a full season in the majors since 2002, according to Waldstein, Lee is very interested in the Yankees offer.
With limited options on the market for a corner infielder, the Yankees interest in Lee makes sense.
He's got decent power and can still field his position enough to be an option that has the Yankees interested.
Plus, what if Teixeira's injury persists during 2013? Jose Bautista had the same exact kind of injury in 2012 and had to have surgery on it, one that ended his campaign.
Lee's average in his career has been as a .280 hitter with 28 home runs and 90 RBI.
His best season as a pro was back in 2005, hitting .335 with 46 home runs and 107 RBI while finishing third in NL MVP voting with the Chicago Cubs.
At 37 years old, and being a veteran with a year off from baseball, this could be Lee's last chance to get a run playing for a potential playoff contender.
Lee was a member of the 2003 Florida Marlins team that beat the Yankees in the World Series.
With less than a month until the 2013 season kicks off, it'll be interesting to see if the Yankees can get Lee to come out of retirement in place of their injured first baseman.
Stay tuned, Yankees Universe.
Read more New York Yankees news on BleacherReport.com