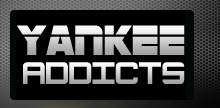 May 12, 2013 · Kenny DeJohn · Jump to comments
Article Source: Bleacher Report - New York Yankees
Another one bites the dust.
Eduardo Nunez is the next name on a long list of New York Yankees to be placed on the disabled list this season (h/t George A King III of the New York Post). Nunez, who has been hampered by a left rib cage injury since last Sunday (May 5), has been placed on the 15-day DL.
In a corresponding move, the Yankees moved Mark Teixeira to the 60-day DL in order to make room on the 40-man roster for infielder Alberto Gonzalez. Gonzalez, who was acquired this past week in a trade with the Chicago Cubs, will likely fill the spot vacated by Nunez.
Gonzalez has played sporadically over his seven-year career, a career that began with the Yankees in 2007. In 413 games (916 at-bats), Gonzalez sports a line of .241/.279/.319 with four home runs and 87 RBI.
By no means is he any more than a reserve infielder for manager Joe Girardi, though he may see a decent amount of playing time while Nunez recovers. Expect Chris Nelson and Jayson Nix to see a little more time to compensate for Nunez's loss, though.
Nunez had been struggling this season prior to the injury. His line of .200/.290/.275 has left much to be desired, and he's already struck out 16 times in 80 at-bats.
Despite the offensive struggles, Nunez's defense has improved slightly. By using the all important "sight test," it's easy to see that the young infielder seems more comfortable ranging into the hole and making tough throws. He has a strong arm, and it's good to see that he's beginning to trust it.
Nunez is a semi-unorthodox player with the way he swings and throws, so playing with a rib injury is not conducive to his own personal success. Taking the time necessary to heal and get back to full strength will be to the benefit of both Nunez and the team.
This does not appear to be an injury that will linger through the 2013 season if he takes the time to heal now. He should be back on the field by the end of the month.
Read more New York Yankees news on BleacherReport.com