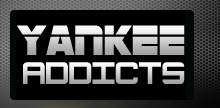 March 14, 2013 · Doug Rush · Jump to comments
Article Source: Bleacher Report - New York Yankees
Last week, the New York Yankees were trying convince Derrek Lee to come out of retirement.
With the injury to Mark Teixeira, the Yankees are searching for options for the first two months of the season.
However, according to Tim Brown of Yahoo! Sports, Lee will stay retired and has turned down the Yankees' offer to play in 2013.
Derrek Lee has decided to stay retired, according to source. Has turned down offer to play for Yankees.

— Tim Brown (@TBrownYahoo) March 15, 2013
Lee last played in the majors back in 2011 for the Baltimore Orioles and Pittsburgh Pirates, but he stayed out of baseball in 2012 after not receiving an offer he liked.
The Yankees are expecting Teixeira back sometime in the middle of May, so their offer was probably not as guaranteed as Lee would have liked and not enough for him to come out of retirement.
Aside from Lee, the Yankees had contacted Chipper Jones and Scott Rolen, but neither had interest in just a part-time role.
If Teixeira's wrist injury was much more serious, I think the Yankees would have signed someone by now, and maybe Lee would have come out of retirement to play for the team.
But clearly, that's not the case. Because the Yankees expect their star first baseman back, they could go with Juan Rivera or Dan Johnson at first in the interim, or move Kevin Youkilis to first if needed.
The Yankees were rumored to have interest in Aubrey Huff as well, but Huff, like Lee, had no interest in playing baseball in 2013.
Aubrey Huff says he's "pretty much retired" dlvr.it/33KyRK #mlb #hbt

— HardballTalk (@HardballTalk) March 8, 2013
That's three names who have said "no thanks" to coming out of retirement to play for the Yankees part-time in 2013: Huff, Jones and Lee.
Yankees general manager Brian Cashman is running out of "creative" options, as he called it, after he got turned down by Jones.

Brian Cashman: Yankees have considered Chipper Jones, Scott Rolen to fill in for Mark Teixeira yesnet.me/Y5YKIg

— YES Network (@YESNetwork) March 11, 2013
So for now, Rivera will continue to get more opportunities to be the first baseman at spring training down in Tampa.
That is, at least, until Cashman sees another option, retired or not.
Stay tuned, Yankees Universe.
Read more New York Yankees news on BleacherReport.com