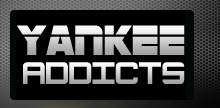 April 8, 2013 · Joe Giglio · Jump to comments
Article Source: Bleacher Report - New York Yankees
The season's second week begins with what normally would be an innocuous April baseball series: Yankees at Indians, April 8-11.
Outside of a postseason series in 2007, the Yankees-Indians rivalry of the late-90's is all but dead. Terry Francona, former Red Sox manager, adds some intrigue. As does the return of Travis Hafner to Cleveland.
Yet the real story lies within Cleveland's big ticket free agent acquisition: Nick Swisher.
The former Yankee right fielder was allowed to leave New York via free agency this past winter. He takes with him a colorful Yankees tenure, marked by consistency, personality, and ultimately, too much ire from a unappreciative fan base.
Brian Cashman is often criticized in New York for failing to draft and develop top notch starting pitching, overpaying free agents, and fielding an aging team. He's not given nearly enough credit for his ability to construct a one-sided trade, as was the case when Nick Swisher was acquired from Chicago in November 2008 for the trio of Wilson Betemit, Jeff Marquez and Jhonny Nunez.
During Swisher's four years in pinstripes, he provided the New York lineup with tremendous bang for their buck. For a grand total of $32 million over four seasons, Swisher hit like one of the best corner outfielders in baseball.
The following are Swisher's ranks among all Major League Baseball outfielders from 2009-2012:
HR: 8th (105)
R: 13th (331)
OBP: 10th (.367)
SLG: 19th (.483)
wOBA: 10th (.370)
wRC+: 15th (128)
WAR: 14th (14.4)
In a recent conversation with Fox Sports Ohio, Indians President Mark Shapiro said he believes a win is worth $9 million on the open market. If that's the consensus view around baseball, Nick Swisher provided the Yankees with $129 million in value over four seasons.
Of course, his regular season play is only part of the story. Spend enough time around New York and you'll realize that it's only a fraction of the story to Yankees fans. When a franchise has won as often as the New York has, just reaching the postseason isn't enough. Producing in October for an individual player can trump anything, positive or negative, done in the regular season.
Just ask A-Rod. Despite two AL MVP awards, Rodriguez has never been accepted in the Bronx because of personal and team postseason failures during his tenure. Of course, that narrative ignores his outrageous 2009 postseason that carried his team to a title.
The opposite side of that coin would be former Yankees third baseman Scott Brosius. Despite a four-year tenure in New York that pales in comparison to Swisher's or the decade of hitting by Rodriguez, Brosius is loved. Why? He was the MVP of the 1998 World Series, and seemed to be in the middle of rallies every October while winning three rings with New York.
A similar narrative clouded Swisher through the end of his time in New York. Although he finished his run with a huge September in 2012, his postseason statistics fed the storyline that he can't hit in the big spot.
While the sample size is small, Swisher has experienced his share of postseason struggles. In 154 postseason at-bats, with all but 24 coming in New York, Swisher is a .169/.283/.305 career postseason hitter.
Somehow, New York was able to capture the 2009 World Series with him in right field for the bulk of the postseason run – he was benched for the immortal Jerry Hairston Jr. at one point – and made the postseason every year he was part of the club.
Many players will come and go through an organization like the New York Yankees with varying degrees of success. Unlike others, Swisher will be remembered for the four years in pinstripes. The steady regular season play and struggles in October were significant, but probably accentuated by his up-beat personality that drew the ire of some old-school fans.
Towards the end of his Yankees tenure, the criticism seemed to finally irk the easy going Swisher.
If you like your players to treat every game and at-bat like it's life or death, Nick Swisher probably isn't your guy. If you think too much smiling is a detriment to success, you probably don't own a Swisher jersey or t-shirt.
From Spring Training to the eve of elimination games in October, Swisher portrayed the same persona: cool, calm, collected.
His upbringing may be part of that approach. Nick's dad, Steve, was a former major leaguer. In a sport that demands it's athletes handle failure on a consistent basis, Swisher approached each at-bat, good or bad, with positivity.
As the 2012 season closed, it was clear which direction New York was choosing to go with their impending free agent right fielder: Cheaper.
Not younger, though. When Swisher – now playing mostly first base for Cleveland – takes the field this week, he'll see 39-year-old Ichiro Suzuki in right field for New York. The swing-happy Suzuki, a shell of the player he once was, is hoping a big September is a prelude to 2013 as he tries to replace the production of Swisher in his own, unique way.
Four years, one All-Star Game appearance and one World Series ring sounds like a great ride in New York for anyone. Factor in the ability to play multiple positions, bat anywhere in the order, and play at least 148 games a year, and it sounds even better.
It was for Swisher, but his Yankees tenure will be known more for October struggles and personality than for stellar production.
Will the Yankees miss Nick Swisher's production in their lineup?
Comment below, follow me on Twitter @JoeGiglioSports or "Like" my Facebook page to talk all things baseball.
Read more New York Yankees news on BleacherReport.com