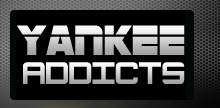 May 4, 2009 · Heartbeat Of The Bronx · Jump to comments
Article Source: Bleacher Report - New York Yankees
The 1927 Yankees are often considered to be the best baseball team ever assembled.
Their lineup's potency was unparalleled, earning them the intimidating nickname of "Murderers' Row."
Throughout the glory years of this immortal roster, New York possessed a one-two punch of Babe Ruth and Lou Gehrig.
Yankees manager Miller Huggins could write Gehrig's name into the scorecard months in advance. He knew nothing would ever prevent Gehrig from lacing up his cleats.
During Gehrig's remarkable 2,130 consecutive games played streak, he is said to have broken every finger on both hands, while also suffering countless other debilitating injuries.
His toughness and dedication quickly earned him "The Iron Horse" as a moniker.
Ruth often joins Ted Williams, Willie Mays, and Joe DiMaggio as the first players to roll off the tongues of those debating the "best player of all time."
Gehrig, meanwhile, has forever been underrated and underappreciated with regard to his greatness—somehow disappearing behind the shadows of baseball's immortals.
Ruth is rightfully credited with being the greatest hitter in Yankees history, and potentially the best in the entire existence of America's Pastime.
He deserves every accolade, as 714 home runs and a career .342 AVG are untouchable when reflecting on the era in which he played.
Gehrig, however, was even more responsible for the team's eternal admiration.
By hitting cleanup in Murderers' Row, he provided unequaled protection in order to maximize Ruth's performance.
As a result, Ruth received many more fastballs than pitchers would have dared to throw had there been any other hitter standing in the on-deck circle. He hit 60 home runs in 1927, the highest total on his Hall of Fame career.
What makes Gehrig's achievements more noteworthy is the fact that he was protected by Bob Meusel, a man who hit just eight home runs in 1927. He never hit more than 12 homers in Gehrig's Yankee tenure.
Gehrig stepped into the batter's box with the bases empty an additional 60 times due to Ruth's blasts and had a gap hitter as protection in back of him.
Even so, he still produced 47 HR, a .373 AVG, .474 OBP, and a team-high 175 RBI.
As powerful and feared a hitter as Ruth was, it was actually Gehrig who performed slightly better in the World Series.
Ruth hit .326 with 33 RBI in 41 games, while Gehrig generated .361 with 35 RBI in just 34 games.
During their time as teammates, Ruth hit .409 with 22 RBI, whereas Gehrig batted .422 with 25 RBI.
Both epitomized the word "clutch," but Gehrig's superior numbers should be celebrated and magnified by hitting behind Ruth.
After Ruth's final .300 AVG and 100 RBI season in 1933, he became a mere shell of the hero he once represented. He struggled mightily in 1934 before eventually leaving the franchise shortly thereafter.
Gehrig's production remained unchanged, even while shouldering the burden of the Yankees lineup for the first time without Ruth.
From 1934-1937, he averaged 41+ home runs and 149 RBI while also hitting .350 over that span.
The Yankees added a promising rookie to the lineup in 1936 named Joe DiMaggio, who was again placed in front of Gehrig in the batting order.
Additionally, "The Iron Horse" had a 20 home run hitter batting behind him for the first time in his entire career—Yankees catcher Bill Dickey.
The combination of Dickey and DiMaggio helped to balance New York's lineup and protect Gehrig. It led to three consecutive World Series Championships from 1936 to 1938.
The Iron Horse would have continued to collect jewelry had it not been for his sudden and disheartening retirement in 1939. He was ultimately forced to leave the game he loved after developing a rare disease that would later bear his name.
Gehrig was the product of a blue-collar New York City upbringing, earning the right to make his mark on the sport's most impressive franchise.
He left baseball the way he entered it after replacing the injured Wally Pipp; feeling grateful and blessed for the years he spent living every kid's dream.
The emotional and heartfelt speech Gehrig delivered is still regarded as one of the best in sports history. He was summoned to speak with no preparation or prior knowledge, and delivered a teary-eyed message straight from his heart to the microphone.
Gehrig is one of the most talented players to ever don a baseball uniform.
More importantly, he is the classiest and bravest man to step foot onto the hallowed ground of Yankee Stadium.
Not only was Gehrig someone to look up to and admire, but he is also a true source of inspiration to anyone who knows his story or battles his disease to this day.
I tip my hat to you, Lou Gehrig, and sincerely hope that you are still hitting cleanup in God's lineup.
Also seen at: http://heartbeatofthebronx.blogspot.com/