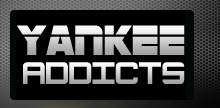 May 4, 2009 · Rob Abruzzese · Jump to comments
Article Source: Bleacher Report - New York Yankees

The Yankees will look for revenge against the Red Sox as they start a two-game series tonight at the new Yankee stadium.
Two weekends ago, the Red Sox embarrassed the Yankees at Fenway with a sweep.
These two games will be the last time they meet until June 9 at Fenway Park.
The Yankees send out their two best young pitchers, while the Red Sox throw their two "best" starters.
Tonight's game: Jon Lester (1-2, 5.40) vs. Phil Hughes (1-0, 0.00), 7:05, YES, ESPN

Lester pitched fairly well against the Yanks when he faced them on April 24, but he was hittable (6 IP, 7 H, 2 R, 3 BB, 7 K). However, Lester was roughed up in his last outing for five runs inflating his ERA.
Hughes was called up six days ago in an emergency start to replace the injured Chien-Ming Wang.
He shined in six innings against the Detroit Tigers. He struck out six Tigers with his devastating curveball and his new cutter (I'm betting Mo had something to do with this).
Yankees vs. Lester, Red Sox vs. Hughes
Tomorrow's game: Josh Beckett (2-2, 7.22) vs. Joba Chamberlain (1-0, 3.13), 7:05, YES

Beckett has not pitched like an ace thus far this season. He made an excellent first start, but since has been smacked around—most recently by the Yankees and the Rays. In the two starts, he has allowed 15 earned runs and 20 hits.
Wow.
Chamberlain is coming off his best start of the season. He shut the Tigers down to one run over seven innings of work—just the second time in his major league career reaching seven innings.
In fact, the last time he finished the seventh was against the Red Sox on July 25 in arguably the best performance of his career.
Yankees vs. Beckett, Red Sox vs. Chamberlain
Photo credits from top to bottom: cw56.com; nydailynews.com; Baseballmusings.com
This article is also featured on lenNY's Yankees.