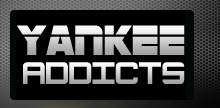 April 26, 2009 · Wesley Johnson · Jump to comments
Article Source: Bleacher Report - New York Yankees
SUNDAY—Game Three of the Red Sox-Yankees matchup this weekend stunned fans all around baseball as the final batter was retired at 11:18 P.M. EDT.
Much more shocking than the Red Sox's sweep of the Yankees, much more exciting than Jacoby Ellsbury's steal of home off of Andy Pettite, was the fact that the game took merely three hours and eight minutes, surprising everyone.
Joe Buck, broadcaster for FOX and at Saturday's afternoon game, envied Jon Miller.
"The last two games I called have totalled almost 60 runs with the [Indians Yankees] game last week and now this week. [ESPN's Miller] has his game rained out last week, and a relative short Sunday night game between the Red Sox and Yankees this week."
Friday's 11-inning game and Saturday's 16-11 slug fest both ended in four hours and 21 minutes.