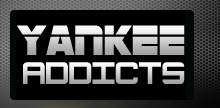 April 24, 2009 · Sara Hannon · Jump to comments
Article Source: Bleacher Report - New York Yankees
The Red Sox/Yankees rivalry is the best in baseball, and possibly the best in professional sports. I was raised to hate the Yankees, I mean, really, really hate them. I have a friend who was raised the same way, only opposite. She was raised to hate the Red Sox.
Why?
Who cares? It's fun! It is certainly not a friendly rivalry, but it is fun to have a "bad guy" to unite against. It's a showdown of good versus evil, the Red Sox Nation vs. the Evil Empire, minor tweaks vs. major, multi-million dollar overhaul.
A rivalry, yes, but most definitely a fun one.
Of course, with this rivalry, things can (and do) tend to go too far. With Joba Chamberlain on the mound tonight, things might get a little interesting.
If you recall from the previous two seasons, there is some bad blood between Chamberlain and Youkilis. Why? Who knows. Fact of the matter is, Joba's thrown at Youkilis four times. Four.
So far, no brawls, but it is getting a little ridiculous. Buzzing a player inside is one thing, it's acceptable, it's part of the game, but throwing at hitters, at their heads, is unacceptable. When Josh Beckett did it earlier this season, it was an accident and everyone knew it. When Joba did it last season, it was no accident.
If he does it again, judging by the reactions last time, there will most likely be a brawl or an ejection, or both.
Tonight, Chamberlain, who went 4.2 innings with six hits, five earned runs, five walks, and four strikeouts in his last start, will square off against Red Sox southpaw Jon Lester. Lester looked much better in his start against Baltimore going seven innings with only four hits, zero earned runs, and nine strike-outs.
While Youkilis's consecutive on-base streak was snapped Wednesday night, he is still making American League pitchers look bad, hitting .429 with an OBP of .522.
In other good news, the Red Sox starters are all now hitting above .200, with Lowell, Youkilis, and Green hitting above .310.
The Yankees and Red Sox kick off their three game series at Fenway tonight at 7:10 p.m., with Chamberlain taking the mound against Lester.
Saturday's game will be at 4:10 p.m. on Fox with A.J. Burnett squaring off against Josh Beckett, who's original start was pushed back a day due to his suspension.
Finally, Andy Pettite will face off with Justin Masterson in the Sunday Night Baseball game on ESPN at 8 p.m.