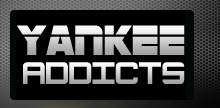 March 5, 2013 · Shawn Tighe · Jump to comments
Article Source: Bleacher Report - New York Yankees
The past six months have been rough for the New York Yankees.
After Derek Jeter went down in Game 1 of the ALCS last season, the Yankees went on to subsequently get swept by the Detroit Tigers in that same series. Once the offseason hit, things went from bad to worse as New York lost Nick Swisher, Rafael Soriano, Russell Martin, Eric Chavez and Raul Ibanez to free agency.
Many Yankee fans took solace in the fact that spring training was around the corner. But after being riddled with more controversy because of Alex Rodriguez and a rash of injuries, Yankee fans began to ponder the team's chances this upcoming season.
With the Blue Jays making headlines after their influx of talent this offseason, the AL East picture became even more crowded than it previously was. Tampa Bay traded away their No. 2 starter but still remains dangerous, and Boston brought in a few pieces after cleaning out the cobwebs last season.
The Orioles remain much intact, but have been touted by some as prime candidates for regression.
Even so, the AL East is crowded with contenders and will be a gauntlet for every team in the division. The Yankees are, surprisingly, the team on the back burner this season. But even after losing key contributors from last year's team and having their superstars go down early with injuries, they still remain the team to beat in the AL East.