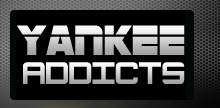 March 7, 2013 · Jake Singer · Jump to comments
Article Source: Bleacher Report - New York Yankees
Curtis Granderson is going to be out until the beginning of May with a broken forearm, which, along with Mark Teixeira's wrist injury, has caused Yankees fans to panic about the upcoming season.
It's impossible to pretend the Yankees aren't in trouble with their two best power hitters out for at least the first month of the season. But given that Granderson and Teixeira are out, what is reasonable to expect from their replacements? This article looks at what to expect from Granderson's replacements in left field, as Brett Gardner will likely shift to center field.
The three most likely replacements to fill in in left field are all right-handed: Matt Diaz, Melky Mesa and Juan Rivera.
Diaz has spent most of his career in Atlanta. He's a .291 career hitter with 45 home runs but hasn't played more than 100 games since 2010. The most home runs he's hit in a season is 13, and he hasn't hit over .300 since 2009. Perhaps .260 with a .310 on-base percentage and two or three home runs in April would be realistic from him.
Twenty-six-year-old Melky Mesa only has two major league at-bats to his name but has shown power in the minor leagues. Last year, splitting time between Double-A Trenton and Triple-A Scranton/Wilkes-Barre he hit 23 home runs in 121 games, but with a low .325 on-base percentage.
I'm not one to give credence to spring training statistics, but Mesa's low-OBP, high-power-number trend has continued in the Grapefruit League. He's hitting just .211 in 19 at-bats but has hit two home runs. His on-base percentage would probably hover around .300 during a month of major league action, but he could hit three or four home runs in that time.
Juan Rivera has the most experience of the three options but also might have the least left in the tank. Rivera spent 2012 with the Dodgers, hitting .244 with nine home runs in 312 at-bats. His .661 OPS (on-base percentage plus slugging) contributed to a minus-0.8 offensive WAR (Wins Above Replacement player), meaning that over the season he cost the Dodgers almost one win compared to a random replacement-level player taken from Triple-A.
He's been putting up better numbers in spring training (he's 6-for-16, a .375 average), but like I said before it's hard to trust Grapefruit League numbers. Rivera's numbers would probably be similar to Diaz's: .260 with a .310 on-base percentage and two or three home runs.
None of these sound impressive—they're really not—but when you consider what could have reasonably been expected from Granderson, the drop-off isn't that great. In 2012 Granderson hit .232 with a .319 on-base percentage, about what one of the three will hit, with 43 home runs, which would be about seven per month.
Without Granderson, the Yankees will lose a handful of home runs over the course of a month but not much more. It's a loss, yes, but it's hardly the difference between first place and last.
Read more New York Yankees news on BleacherReport.com