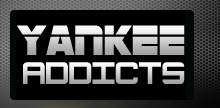 December 29, 2011 · Tim Arcand · Jump to comments
Article Source: Bleacher Report - New York Yankees
As a Minnesota sports fan, the past 12 months have been extremely rough. Not only have all four professional teams failed to make the playoffs, three of the four finished last in their respective division. A couple took it even further, with the Twins finishing with the worst record in the American League, and the Timberwolves with the worst record in the NBA.
It's required changing the colors on the bag I wear over my head as each season progressed.
Yet, every season brings hope. Perhaps the latest draft choice will be the next savior of the franchise, and lead my favorite team to respectability. There's got to be another Kirby Puckett, Kevin Garnett, Fran Tarkenton, or Neal Broten out there that can turn a struggling franchise around.
Because it is the season to reflect and be thankful for all the good things in our lives, for just a moment, I stopped lamenting about the professional landscape in the Twin Cities.
Without the Vikings, Twins, Wild, and even the Wolves, the Twin Cities of Minneapolis and St. Paul would just become a colder version of Omaha, Des Moines, or Topeka. Even in losing, there's an identity that comes to a city, or area with a professional sports team.
I compiled a list of the 49 cities with professional franchises from or the four major sports leagues and ranked them. I apologize in advance to all the fans of MLS, MLL, WNBA, and CFL for not including these teams in the rankings.
In an attempt to remove emotion from the ranking (and my distaste for everything "NY"), the ranking was based on the the combined years the current teams have played in their current location, the combined winning percentage since 1960, and the total number of championships won.
While it is obvious there a several, major metropolitan, areas that will dominate because of the total number of franchises, there may be some surprises along to the way to the top town.
Remember, no matter where your favorite teams landed, beauty is in the eye of the beholder.