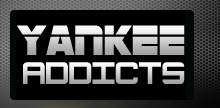 January 6, 2010 · Greg Fertel · Jump to comments
Article Source: Bleacher Report - New York Yankees
Randy Johnson is a great pitcher who should be a first ballot Hall of Famer. There is no arguing that point.
He had some of the most dominant seasons of all time and continued to be an effective starting pitcher even during the twilight of his career.
This is not how he is thought of in Yankee lore.
The two seasons Randy Johnson spent in New York were not memorable. He won 34 games, an impressive number, but still did not win the hearts of the Yankee faithful.
It started before Johnson had his first game in pinstripes. It seems that he just didn't know what he was in for when coming to New York. He quickly had an infamous confrontation with the media. Walking down the street, a cameraman approached him.
Instead of politely posing for the camera, Johnson declined, saying, "No cameras," and shoving the cameraman in the face. This gave New Yorkers an immediate opinion of Randy Johnson, and he was never able to overcome his negative first impression.
Even with Johnson's gaudy win total as a Yankee, his 4.74 earned run average drew him jeers from the fans at Yankee Stadium. Putting up a 6.14 ERA in 7.1 playoff innings in 2005 and a 7.94 ERA in 5.2 playoff innings in 2006 sure didn't help.
It's not like the Yankees got Johnson's average production for free, either. They paid him $31.7 million over two seasons, which he probably wasn't worth. The fact that the Yankees traded Javier Vazquez and Dioner Navarro for him made it even worse.
That said, Yankee fans don't give him enough credit for what he did do.
At the time, the Yankees had one of the worst defenses in baseball. That can't help a veteran pitcher whose strikeout rate was steadily declining from over 10 to under seven. The additional balls in play with a weak defense behind him really hurt.
Johnson's personality was not fit for New York, nor was his talent set. Johnson is one of the greatest pitchers in the history of baseball, but his time with the Yankees did not exemplify that.
He was still quite a pitcher, who put up decent FIP numbers. But he still wasn't good enough. Yankee fans put their pitchers up to higher standards, and Randy Johnson couldn't quite cut it.
When the Yankees bring in a Hall of Famer, people expect Hall of Fame quality. I think Johnson did a formidable job, but the Yankees defense and the pressure from the press made Johnson look worse than he was.
In the end, Randy Johnson won't be remembered for his two seasons with the Yankees. He'll be remembered for striking out over 300 batters five times during his career.
Johnson was an amazing pitcher whose resume can't be tarnished. His two seasons with the Yankees present the only black mark on his sterling career.
Read more New York Yankees news on BleacherReport.com