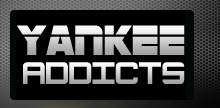 March 20, 2013 · Joe Giglio · Jump to comments
Article Source: Bleacher Report - New York Yankees
When Derek Jeter crumbled to the ground during the first game of the American League Championship Series last fall, it was understood that a severe injury was suffered. The diagnosis of a broken ankle meant starting 2013 on the field would be an uphill climb for the Yankees' captain.
The climb has become steeper this week.
On Tuesday, Jeter was scratched from the lineup with soreness around the surgically repaired ankle.
On Wednesday, general manager Brian Cashman acknowledged that Jeter received anti-inflammatory medication and won't play in another game to rest the ankle. When pressed, Cashman admitted that Opening Day is a question mark and starting the season on the DL is a 'possibility' for the 38-year-old shortstop.
2013 is going to be a challenge for New York, with or without Jeter's services. Vegas has projected the Yankees for their lowest win total in over a decade, the AL East is a bear, the team's reluctance to take on long-term payroll is rearing it's head, and injuries and decline have hit other stars in the lineup.
If Jeter is to miss Opening Day, here is what a possible lineup could look like against Boston's Jon Lester.
Don't shoot the messenger, Yankee fans.
1. Brett Gardner, CF
2. Ichiro Suzuki, RF
3. Robinson Cano, 2B
4. Kevin Youkilis, 3B
5. Juan Rivera, 1B
6. Ben Francisco, DH
7. Eduardo Nunez, SS
8. Melky Mesa, LF
9. Fransisco Cervelli, C
Outside of Robinson Cano, the projected starting lineup combined for 38 home runs in 2012—half coming from Kevin Youkilis. In 2012, New York played six regulars with at least a .336 on-base percentage. This projected starting group would field two, Cano and Youkilis, with OBP's of that caliber from last season.
Over the last 18 seasons, the New York Yankees have made the postseason a remarkable 17 times with a time-tested, sound offensive philosophy: get on-base and hit for power.
Joe Girardi is a tremendous manager, but it's going to be hard to win many games in early April with a lineup that doesn't have the ability to hit for power or get on base at a high rate.
Of course, Jeter's setback could be minimal. Opening Day is symbolic, but in reality, it's just one game. A short stint, combined with facing more right-handed pitching, thus playing time for Travis Hafner and Brennan Boesch, could lead to more runs.
Jeter's absence will be felt early and often, though. Even if ankle issues limit him to DH duties for a good portion of 2013, he's still projected to be an above average offensive player.
Asking him to replicate a .316/.392/.429 of '12 might be a bit much to ask, but the Yankees need him in the lineup to compete in 2013.
Read more New York Yankees news on BleacherReport.com