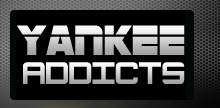 April 22, 2009 · David Lynn · Jump to comments
Article Source: Bleacher Report - New York Yankees
While it would be easy to say that the stadium is the cause of this deluge of homeruns, you cannot overlook the pitchers as a major cause.
There are people who claim the wall is closer than it used to be, and that there is a jetstream out to the fence, which may very well be the case.
There have been numerous home runs, for both the home and visiting teams, that have seemed to carry much farther than they should have.
What is scary is that they expect the jetstream to get even stronger once the old ballpark comes down. What I want to know is how this was not considered before the park was even built, but maybe it was.
Maybe the Yankees wanted to set records in home runs, knowing that they had wasted so much money on starting pitching while neglecting the rest of the team.
I have heard that Wang would have to pitch something like 46 straight scoreless innings to get his ERA back under 10. That is just ridiculous. Don't tell me the pitching is not a major contributor to this home run fest.
Only time will tell if this is an anomaly or something that will last all year, but don't start to tell me the terrible pitching has nothing to do with it.