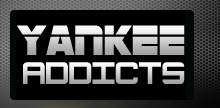 February 24, 2013 · Benjamin Klein · Jump to comments
Article Source: Bleacher Report - New York Yankees
The New York Yankees' lineup took a major hit Sunday as Curtis Granderson was forced to leave a spring training game after getting hit with a pitch in the arm.
After a precautionary X-ray, Jack Curry of the YES Network broke the news that Granderson would miss around 10 weeks with a fractured right forearm. Curry goes on to mention that those who could take Granderson's spot in left field include Matt Diaz and Juan Rivera as well as Melky Mesa and Zoilo Almonte.
The Yankees wouldn't be in too big of a pickle right now if they would've retained some of their players from last season. New York saw outfielders Raul Ibanez and Nick Swisher walk in free agency and also allowed several other impact players to sign with new teams this past winter.
Andrew Marchand of ESPN New York reports that general manager Brian Cashman has already said that the Yankees will be scoring less in 2013, a near certainty with the absence of Granderson. Marchand notes that the Yankees were already missing 114 home runs from 2012 and will now miss an additional 43 until May when Granderson is expected to return.
A Bleacher Report tweet perfectly sums up how the Yankees' offense is now looking:
Teixeira brutal in April, Jeter recovering, A-Rod/Granderson out, Youk adjusting/reinventing, Gardner long layoff…rough #Yankees lineup.

— Bleacher Report (@BR_MLB) February 24, 2013
So what will New York's lineup look like now without Granderson? Let's take a look.
1. Ichiro Suzuki, Right Field
Ichiro was likely to be the Opening Day leadoff hitter whether Granderson was healthy or injured. He was also still going to be playing right field regardless of the injury, so actually, the Granderson absence doesn't affect him very much.
The Yankees need Ichiro to stay healthy, though. New York lacked depth before the Granderson injury and cannot afford to have another outfielder get sidelined.
2. Derek Jeter, Shortstop
Jeter is coming off of a broken ankle and should be ready to for Opening Day, as USA Today reports he's aiming to play around March 10. He really needs to come back in a big way, though, as Granderson was a big part of the offense. If Jeter doesn't rebound quickly, the Yankees will lose a lot more production than originally expected.
3. Robinson Cano, Second Base
Cano is easily the biggest threat the Yankees' lineup features. He's New York's most consistent hitter and can drive the ball with ease.
He led New York in OPS last season and finished the year with 33 home runs, 10 behind Granderson. If Cano could hit with a little more power—taking advantage of the short porch in right field—I'm sure the Yankees would appreciate it.
4. Mark Teixeira, First Base
Teixeira has been a bit of disaster of late as he no longer hits with much consistency. Over the last three seasons, he's hit .252/.347/.484, much lower than his career line of .279/.369/.527.
He also had trouble staying healthy last year, only playing in 123 games, the fewest in his 10-year career. March and April have been Teixeira's worst months as a big leaguer and New York needs him to step up until Granderson returns.
5. Kevin Youkilis, Third Base
Youkilis is one of the underrated players affected by the Granderson injury. He probably would've been hitting a slot lower had Granderson's injury not been as serious as it is.
Youkilis has battled a slew of injuries over the last few seasons and hasn't played in more than 130 games since 2009. He also wasn't very effective at the plate in 2012 and his lack of production was part of the reason he lost his job with the Boston Red Sox.
6. Travis Hafner, Designated Hitter
Hafner will likely platoon as the Yankees' designated hitter come Opening Day—probably with Eduardo Nunez. This is primarily because Hafner is an awful hitter against left-handed pitching.
Hafner is a career .257 hitter against lefties—30 points lower than he fares against righties. He hasn't been notable since 2007 and the Yankees have to hope that he really enjoys hitting in Yankee Stadium. New York needs a lot of production from the DH spot with Granderson sidelined.
7. Juan Rivera, Left Field
With Granderson out, I'm expecting Rivera to take his place over Diaz. Neither are very good fielders, but Rivera is more of an offensive threat than Diaz is. Rivera has a ton more power than Diaz and has also been able to stay healthier.
Rivera has played in at least 100 games in each of the last five seasons whereas Diaz has only played 100-plus twice over that same span. Looking at both players' career splits, Rivera is also a better hitter early on in the season, which means it should be an easy choice to play him over Diaz while Granderson rehabs.
8. Brett Gardner, Center Field
Gardner is only somewhat affected by the Granderson injury, and only in a defensive manner. Despite Granderson manning center field for nearly all of the 2012 season, it seemed as if Gardner was going to be playing center this season instead, with Granderson playing left field.
Now, it's certain that Gardner will be the everyday guy in center since no potential replacement has the range that he does.
9. Chris Stewart, Catcher
Stewart is likely to be the Yankees' starting catcher this year after Russell Martin left in free agency to go play for the Pittsburgh Pirates. Although Stewart hasn't officially won the role yet, he seems to be the favorite at the moment.
There isn't a ton of pressure on Stewart now that Granderson is out, but he will be expected to help make up for the power that was lost when Russell didn't re-sign.
Read more New York Yankees news on BleacherReport.com