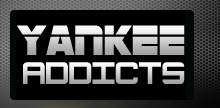 February 25, 2013 · Phil Watson · Jump to comments
Article Source: Bleacher Report - New York Yankees
Coming into spring training, the New York Yankees had four key position battles that were set to play out in Tampa, Fla.
Of course, with Curtis Granderson suffering a broken arm during Sunday's Grapefruit League home opener against the Toronto Blue Jays, that opens up a fourth competition to be Granderson's replacement—at least temporarily—until the 31-year-old slugger is able to return.
The Yankees were looking at a major fight to determine Russell Martin's replacement behind the plate, a battle to earn the right-handed at-bats at designated hitter, a decision on who will be the key utility infielder—an important role on a team with a bunch of 30-somethings patrolling the infield—and a push to see who will fill the fifth spot in the starting rotation.
With Granderson's injury, left field can be added to the list.
Here's how those positional battles will shake out.