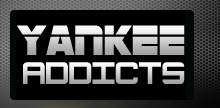 December 12, 2012 · Stephen Skinner · Jump to comments
Article Source: Bleacher Report - New York Yankees
With the announcement that Kevin Youkilis has agreed to a one-year contract with the New York Yankees, the 2013 version of the "Bombers" infield appears set, but given the age of some of their most valuable stars, what will the group look like a couple of years down the road?
For now, the Yankees know the immediate future of their infield will hold names like Cano, Teixeira, Jeter, and Youkilis. Alex Rodriguez will eventually return but chances are that his role in 2013 will be limited to part-time DH duties.
In the next two seasons the team will have to address not only the age issue, but contract issues with a couple of its biggest stars. All of it will be done under a self-imposed salary cap in the attempt to avoid a luxury tax in 2014.
Looking to 2015, Yankees fans may see the end of an era, as well as the dawn of a new one in the perimeter of the infield grass.